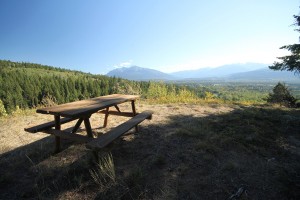 By: Laura Keil
A popular trail among locals, this trails begins as a wide flat gravel trail that follows Swift Creek for 1km, then veers left into the woods and works its way steeply to a viewpoint. The views are excellent for the shortness of the hike – More than 180 degrees with views of Canoe Mountain, The Village, and the Premier Range. The trail is used by hikers and mountain bikers and is accessible from Main St.
The lookout is an in-and-back hike and follows the Swift Creek Loop Trail. The Loop trail is not passable due to a damaged bridge across Swift Creek. The lookout is approx. 1.85km down the trail for a total distance of 3.7km round-trip. It takes about an hour and climbs about 120 feet in elevation. A new picnic table allows you to sit and enjoy the view when you get to the top. It was placed there by the Thoni family to commemorate Rudi Thoni's parents.
1. Wheelchair accessible: No
2. Best seasons: spring – fall
3. Distance (return): 2.3 miles/3.7 km
4. Approx. time: one hour
5. Elevation gain: 120 ft/v m
6. Closest bathroom/outhouse: Centennial Park on Dogwood
7. Gear to bring: Bring 0.5L water/pp. The bugs are not bad at this time of year.
8. How to access/where to park: 1) The trailhead begins at the bridge over Swift Creek on Main St. From 5th Ave, take Dogwood to Main St., turn left and park at the far side of the bridge. Or from 5th Ave, head east and cross the train tracks; turn left and drive 2km; park on the far side of the bridge. The trailhead begins on the east side of the bridge. The descent is steep and sandy.
9. Best Parts: The views are wonderful for this relatively short hike. Walking along the creek is incredibly peaceful. You can ski or snowshoe the trail in winter. Watch out: bears are sometimes spotted along this trail during spring and summer. Be sure to make lots of noise so you don't surprise them.
10. Worst Parts: There are some very steep sections that are sandy and it's hard to grip unless you're wearing good hiking shoes. Hiking poles are recommended for these sections. The mosquitoes are bad during the summertime, but right now there are few bugs.