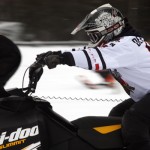 If things go to plan, a new business offering snowmobiling and avalanche safety courses will be open in the Robson Valley area by winter – Frozen Pirate Snow Services.
Curtis Pawliuk, owner of Frozen Pirate, has been teaching avalanche skills training courses for a few years now, and he is seeing a need and desire for more mentorship – "actually going out in the terrain and seeing how to use it and how to push it safely." He hopes to offer avalanche skills training, avalanche mentorship, guiding for all levels, riding clinics, and safe snowmobile operator courses. He hopes to have the programs up and running by December this year.
Pawliuk, who is also general manager for Valemount Area Recreational Development Association, says he won't be leaving VARDA, he'll be running his business on his time off. He's applied for crown land tenure to use the areas designated for snowmobile use in the Valemount to Blue River Sustainable Resource Management Plan (SRMP) as well as snowmobiling areas around McBride. The tenures are not exclusive – there are others who currently have tenures in the area – but it will allow him to meet the regulations for the Avalanche Skills Training courses offered through the Canadian Avalanche Centre.
Mac Cochran, president of VARDA, says the organization supports Pawliuk's proposal on the condition that he secures proper tenure through the provincial government, has proper liability coverage and follows industry standards for risk management.
Pawliuk has applied to the Ministry of Forest, Lands and Natural Resource Operations for a licence of occupation under the province's Adventure Tourism policy. The public can comment on the application until September 22, 2014. For more information you can view the application on the ministry's website at http://www.arfd.gov.bc.ca/ApplicationPosting/viewpost.jsp?PostID=47019.