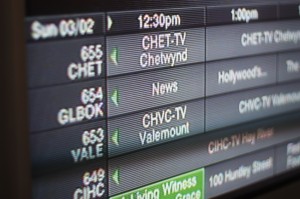 Valemount's community TV station has brought home a Canada-wide award – the I Heart Local Cable Award for the Discover Valemount TV series.
By: Korie Marshall
The series, co-produced with Tourism Valemount, was one of four nominations shortlisted for public voting in the Best Entertainment Programming category. VCTV and its organizers, the Valemount Entertainment Society, were also shortlisted in two of the other five categories for the awards: Best Community Building Story category for the 2013 Outdoor Nativity Pageant; and Best News/Issue Programming category for great coverage of local events like the Chili Cook-off.
Gord Peters, VCTV Station Manager, says the station and Tourism Valemount are "tremendously excited and humbled at the honour" of winning this award. He says he'd like to thank the Valemount residents who nominated VCTV for these awards, and all the people who cast the 39,251 votes for the station over the four-and-a-half-month voting period.
"VCTV is your station, so this award is for Valemount," says Peters.
"As a community-run, non-profit station, one of only seven remaining in English Canada, we take a lot of pride in documenting and broadcasting Valemount events," Peters told the Goat in February, at the beginning of the voting period. "It's important to celebrate what we do here and to preserve it for posterity. And it's a definite bonus that our little homegrown VCTV is now seen across Canada on the Bell and Telus satellite networks, exposing our great village to over two million viewers."
Along with bragging rights, the award comes with a $1,000 cheque made out to a local charity or non-profit. The Society plans to discuss where to donate the money at its board meeting later this week.
Peters said voting closed at 5 pm Atlantic Time on Monday June 30, but the official announcement will come from the Canadian Cable Systems Alliance on Wednesday, July 2. The I Heart Local Cable Awards are offered by the Canadian Cable Systems Alliance as a national celebration of excellence in cable service delivery, community-mindedness, and content development.