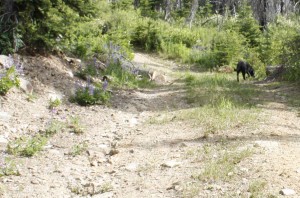 By: Korie Marshall
Valemount's bylaw officer can deal with certain issues related to dogs within the village, but not all of them. And although the Regional District doesn't have an animal control bylaw, certain issues – like dogs chasing wildlife – can be dealt with by the Conservation Officers.
Dean Schneider, Valemount's bylaw officer, says there has been a recent complaint about dogs chasing other animals, but he is limited in what he can do outside of the Village's jurisdiction. He is surprised the Regional District of Fraser-Fort George does not at least have a dangerous dog bylaw for safety reasons, such as the Thompson-Nicola region does.
"I guess there has been no demand for it," says Schneider, "which is kind of unbelievable. It's a pretty big region."
Renee McCloskey, spokesperson for the district confirmed there is no animal control bylaw or anything that would deal with dogs chasing other dogs or wildlife. However dogs chasing wildlife does fall under the Wildlife Act.
"A Conservation Officer or Constable has the authority to deal with dogs pursuing wildlife," says Sergeant Rory Smith with the Omineca Region of the Conservation Officer Service. "They can be destroyed and the owners may be subject to charges under the Wildlife Act."
To report it, residents should call the 24-hour Report All Poachers and Polluters (RAPP) line at 1-877-952-7277. Smith says the dispatch centre would get a hold of whoever is on duty, and if a Conservation Officer is in the area they will deal with it. If not, the Conservation Officers can contact the local RCMP detachment to see if they can assist.
"If it is something that is urgent like that we'll usually action it right away," says Smith. "We don't have an officer in Valemount, but if people call we'll do our best to try and follow up on things, or work with other agencies to deal with it."
Within the Village, Schneider has seized a few animals for running-at-large, which can come with a hefty fine – $100 for the first, and increases for successive instances. However he's not yet issued any fines for running-at-large, because a bigger issue he's found is people aren't licensing their dogs.
"So far I've been lucky. Based on the complaint and the description, someone knows who the dog belongs to," says Schneider, and he's been able to return the dog to its owner. But he encourages people to come in and license their dog, and he has issued fines for not doing so. Failure to license your dog or failure to attach a license can mean a $50 fine.
The bylaw also has rules for the care of your dog, including ensuring your dog has clean food and water and daily opportunities to be free of a confined area. It also says your dog cannot be hitched or tied to a fixed object for longer than six hours in a day. Poor treatment of the animal and poor condition of its shelter, as well as failure to use an appropriate collar can mean fines of $100.
Schneider says he has received a complaint that someone witnessed abuse of a dog, but writing a ticket is not going to solve that issue. He recommends concerned people call the SPCA to report it.
Lorie Chortyk from the BC SPCA confirmed people should call their hotline to report animal cruelty, at 1-855-622-7722. She says the provincial call centre will dispatch a constable or they will contact the local RCMP if help is needed more urgently than SPCA staff can travel to an area.
If dogs are barking excessively, Schneider asks people keep a written record over a week's time to help him better deal with the issue.
"No one wants to listen to a continuously barking dog, and there is a reason it's barking," says Schneider. "It's bored, or tied up, no one is around. They are social animals; they want to be with people."
Schneider says he hasn't received any complaints of a dangerous dog within the village, but the bylaw does speak to it, and he could issue fines if dogs chase or attack other dogs. There can also be fines for having more than four animals and not picking up after your dog. He's also heard complaints about cats too, but he hasn't issued any fines. The Village does have cat tags, but it is voluntary, and there is no database yet because no one has come in to register a cat yet.