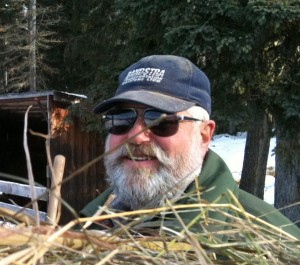 Len McCarty says he struggles with the idea of what can be considered volunteering.
Other people say McCarty is instrumental in keeping the McBride curling club going, and he admits he's been involved "since forever." But he says he does it because he has a "ridiculous" passion for curling, and if he and others didn't do it, no one would be able to curl, or be able to afford it. For him, the curling rink is a retreat, a place he can go where no one bugs him. He says the other members of the club let him do what he wants and what he can, and they don't get mad if he messes up, but he's not sure that is volunteering.
McCarty says he agrees with Jen Quam's comments – you volunteer so your kids have opportunities, and he's done that for many years. He was also a volunteer fireman for many years, and was an alderman on McBride Council, but he says he would argue that serving on council is not a volunteer position.
"It is necessary to support your community, but I'm not sure that is volunteering," says McCarty.
He wonders about the definition of "volunteering" – is it that you don't get paid? Does it matter if you get something out of it? Do you do it for yourself, or for others, or because someone has asked you to? And is it something you can walk away from? Len says he will walk away from the curling club one day, as he did from firefighting and council, but hopes that he can leave something good behind that can continue without him, as others have done before him.
Being involved with other people, however you want to describe your community, however big you want to draw that circle – McCarty says "it is good for our souls, and good for our community."