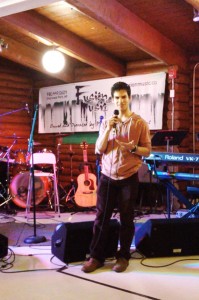 Submitted by Dorothe Flauer
Visiting Valemount and all the amazing amenities the area has to offer was definitely in the air at the Carry the Torch for Omar Medina Fundraiser held at the Log Cabin in Sherwood Park, Alberta on March 15, 2014. The event showcased some of the wonderful Valemount Destination tourist attractions that were a big hit of the silent auction with lots of bidding wars going on throughout the evening. The event for Omar Medina, a young Valemount track star, was immensely successful in promoting the beautiful Robson Valley and all it has to offer all year round.
Just over $3,000 after covering costs was raised that will help Omar with his training and gear, registration fees, travel and other expenses as he participates in many competitions throughout BC this spring and summer. Some of the events include the BC High School Zones and Provincial competitions, the Spruce Capital and Jack Brow events and the Legion Nationals and possibly the Canada Juniors in Quebec. It is only with the support of a caring community that our young people are able to pursue their dreams.
Omar and his family would like to extend their heartfelt thank you to many the supporters in Valemount who generously donated tourist and hospitality items for the fundraiser, held a block from where the Medina family first lived in Canada. A short distance from the hall was Pine Street Elementary School where Omar first attended school, and was introduced to track and field in his new community.
The event drew over 260 people who enjoyed an amazing authentic Mexican feast prepared by the team of Valemount's own Maria Salas, her son Ricardo along with Omar's parents, Myriam and Omar Medina.
Entertainment was donated and hosted by Fusion Music, with the Blues by Kevin and Rita McDade, Country music with Allan Bain and the Weekend Warriors, and the Latin drumming fusion ensemble Viajante with Master Percussionist Tilo Paiz.
Omar was visibly overwhelmed and moved by the many people who came out for the event and was a great ambassador for Valemount as he spent the early part of the evening going from table to table, chatting with new found fans that came from all over the area to support the young Olympic hopeful.