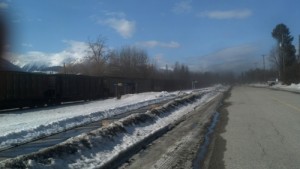 By Korie Marshall
A train trundling through Valemount in mid-March appeared to be carrying coal in open-top cars and was billowing clouds of black dust across Main Street.
A spokesperson for CN told the Goat that coal is transported using the best available proven technology to ensure coal stays in the cars. Rail cars are sprayed at the mines with a coating that creates a hardened crust on top of the coal. CN says Canada's coal supply chains operate under environment and safety regulations that are among the most stringent in the world, and follow requirements set out by all levels of government.
Coal dust is known to be toxic. The Valemount rail line passes over Swift Creek near salmon spawning grounds and the Village's drinking water intake.
CN says if residents have concerns, they can phone 1-888-888-5959, or email [email protected], with the date and time of the incident, and if possible, the train number.