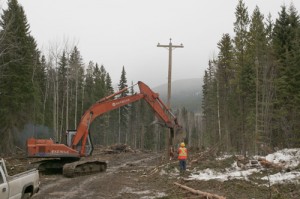 By Korie Marshall
Castle Mountain Hydro's six-megawatt project on Castle Creek is scheduled to be in operation in April 2015, and will be able to power McBride if needed.
John Wheeler, one of the owners of Castle Mountain Hydro told the Goat the project will connect to BC Hydro's existing distribution line to McBride, but the project will use up most of the remaining capacity. The company has had an electricity purchase agreement with BC Hydro since 2010. Having already booked the remaining space on the distribution line, they weren't involved in the negotiations between BC Hydro and ecoTECH, Holmes Hydro and Snowshoe Power for a new transmission line from Valemount to McBride.
Although there is no signed agreement yet, Wheeler says BC Hydro asked them to build the Castle Creek project so that it would be capable of operating in "island mode" – meaning it will be able to power McBride independent of the grid in the event of an outage.
"Forest fire is still probably the number one risk that will knock a line out for a long time," says Wheeler. "And there is an awful lot of forest between Kamloops and here."
At the time of the Barriere fire in 2003, Wheeler says BC Hydro was not looking for projects to be able to power an area on their own; that just wasn't their job. Power was out north of Barriere for about a month, and he says BC Hydro tried to get the hydro-electric plant in Valemount to provide power to the community, but it just wasn't built for it. After that fire, they started rethinking the policy.
Wheeler says now, when BC Hydro looks at a project that is in a suitable location and is a suitable size, it makes sense to build the capacity to have it power the area into the project. He says the potential for drier and stormier weather seems to be increasing, and the potential for local power projects to be called upon again is not insignificant.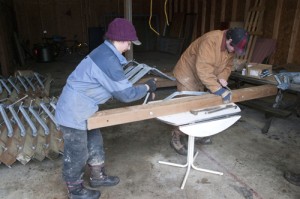 For about seven months of the year, possibly even into December, "that would be no problem at all – this system could operate for a month," says Wheeler, running the whole McBride area.
He says he hasn't heard any plans of removing McBride's generator, even though this winter's outages have been unusual.
"Historically there are more in the summer when you've got leaves on the trees. This winter was a bit of an anomaly, most winters you get through without any significant outages."
Wheeler says one of the problems often facing hydro generation projects is that they are seasonal – and if they are too seasonal, it is hard to justify building a long power line to reach a resource.
What is unusual about the Castle Creek project is that it has a very high capacity factor because it is a relatively small project on a relatively large stream. Wheeler says it will run at its rated power through the spring and summer and into November.
If the project doesn't produce the power it promised, the company will have to pay penalties to BC Hydro.
Wheeler explained their electricity purchase agreement is for "firm energy", energy that BC Hydro can rely on. That means BC Hydro can draw down the levels in their dams by the amount of energy Castle Mountain has agreed to provide, because they know they'll get it – either in energy from the Castle Creek project, or BC Hydro will get money from Castle Mountain to buy the energy on the open market. Wheeler says it is a good thing for BC Hydro, because it allows them to use extra capacity in their reservoirs when they need it, which improves their ability to maximize their existing resources.
Most other run-of-river projects are more seasonal, meaning they can only put out their rated power for shorter periods, usually starting with the freshet, or spring snowmelt. Wheeler says it's hard to justify the cost of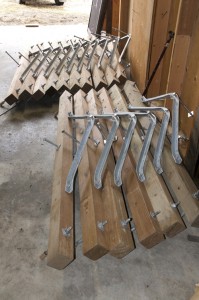 building a power line to those projects, unless they are paired with other projects that generate power at other times of the year. A biofuel project, like the one ecoTECH has proposed, would work very well with most hydro projects says Wheeler, because they have very high capacity factors – they can run full time. He says a biofuel project can generally choose spring to shut down for maintenance, when the freshet and road bans are on, and it's harder to get access to raw materials. That is when most run-of-river projects are at their peak, so they are a good pairing.
"BC Hydro loves it if you can generate in March," says Wheeler. "If you can put power out this time of year, you are their best friend."
Wheeler says he recently worked on a small hydro project that provides the only source of electricity for a village north of Bella Bella and its fish packing plant. He estimates that project offsets $5000 a day in diesel fuel, which is significant. Wheeler says the Castle Creek project was originally called Benjamin Creek, an early name that had meaning to the owners of the company. It wasn't recognized as the official name of the creek, although it's still the name listed on BC Hydro's website. Construction on the project will be finished later this year, and Wheeler says it is scheduled to start commercial power production on April 1, 2015.