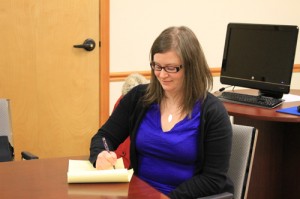 By Korie Marshall
Valemount's new grant writer brings a fresh perspective, as well as more than eight years of writing and research skills and experience working with clients. Her best advice to local organizations is to have an idea of what you want, plan well ahead, and keep track of in-kind donations, like your volunteer hours.
Originally from London Ontario, Sarah Thorn says she came to the area as a part-time Employment Advisor with the Valemount Learning Centre last year because she has always wanted to live in the mountains. She has now accepted the Village's part-time grant writing position as well.
"What I bring right now to the community is a fresh perspective," says Thorn. She also has two undergraduate degrees – one in Sociology and one in Environmental Studies. She says we all sometimes have difficulty seeing something objectively when we've been involved with it for a long time. She encourages people to put in the work and take a chance on getting funding, because any work you do now will compound, and make the organization better next year, and better able to get more funding in the future.
"It's a collaborative effort between me and whatever group or organizations I'm working with," says Thorn. "It's important that we work together throughout the process." She asks as a first step that groups come register with her so that she and the group can get to know each other, and to ensure she is clear on what the group is are looking for. She can also send out appropriate grant ideas to organizations if they are registered with her.
Having a clear idea of what your group wants, or what it might want is really important. Thorn says she can help you apply for a grant you've identified, but if you haven't, she is here to research and find grants to apply for – and that is easiest if your group has a clear idea what it is looking for.
She says it is very important to plan ahead because grants often have short application deadlines. Thorn also says keep track of your in-kind donations, including recording all volunteer hours and what tasks are being done because these have value, and are important in the grant writing process.
There are many organizations in the area, she doesn't have a count yet, but says if you combine efforts with other organization, you are more likely to get funded.
The position is part time, funded partly by the Village and partly by Northern Development Initiative Trust, and her coverage area is between Crescent Spur to Albreda. Thorn's regular office hours will be 1:30-4:30 Friday afternoons, in the Village Chambers, but she will be available by appointment to meet with organizations at other times, including evenings and weekends.
Thorn can be reached at [email protected], and she says she will also have a phone number soon.