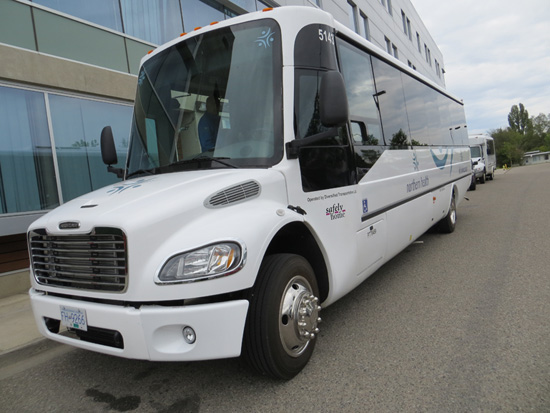 Patients travelling to Prince George from Valemount or McBride on the Northern Health Connections bus service, will now have an onboard washroom and bigger luggage space.
Northern Health Connections Bus service unveiled the newest member of its fleet that will travel on the Prince George to Valemount/McBride route. The new bus is part of a routine fleet refresh by the operator of the service, Diversified Transportation.
The health bus is offered to residents with medical appointments outside the Robson Valley at heavily subsidized rates. It costs $20 from both McBride and Valemount to get to Prince George or Kamloops, and $60 to get to Vancouver.
Northern Health Connections has a fleet of 11 buses: six coaches for long haul routes and five smaller buses for same day routes such as the McBride/Valemount to Prince George route. The Northern Health Connections buses operate in communities all over the North.
Information on Northern Health Connections Bus service can be found at northernhealth.ca.