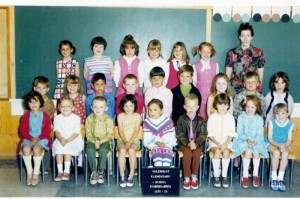 The Valemount Secondary graduating class of 1983 held their 30th reunion June 28-30. On Saturday night, Joan Nordli attended the event. Nordli was the Gr. 4-5-6 and sometimes Gr. 7 teacher for most of the students who graduated in 1983.
It was an emotional moment as Joan Nordli greeted her former students last weekend.
"Mrs Nordli!" said Roger Dancause.
Nordli looked at him and tried to remember the boy that was once in her classroom. He went up to her and kissed her on both cheeks.
"It's Roger!" he said.
"Roger? No! Roger? Oh hello Roger!" she grasped him in a tight embrace that forced her glasses to skew to the side.
Roger says Nordli was a strict teacher, but well respected.
Francis Meersman recalls how Nordli helped him achieve in math.
"I could not do my math and she would sit there until 6 o'clock at night until I got it right."
Susan Roy (nee Smid) says her fondest memories of Nordli are of her reading. She still remembers how everyone cried when she finished reading Old Yeller.
Out of 29 who graduated, 21 came to the reunion. Three more joined the reunion who had gone to school with the group but left VSS before graduation.
They had a 10-year reunion, but not a 20-year, so many of the graduates had not seen each other in 20 years. One graduate, Kim Sachse (nee Malcolm), came all of the way from Australia.
By: Laura Keil
Graduates in attendance but not in the kindgergarten photo: Darren King, Shawn De Biasio, Leanne Blackwell (nee Watson), Virginia Hystad (nee Watson), Pam Loseth (nee Moore), Cheryl Sherret (nee Pawliuk), Debra Pawliuk, Kelly Mahdiuk, James Moman, Lucy Dann (nee Weaver), Roger Dancause (came from Georgia), Chris Mitchell, Ross Davis, Terry Corley, Angela Ross.
The group also took time to remember our classmates that are deceased: Stina Jackson, Eric Olson, Rob Olson, Steven Smith.