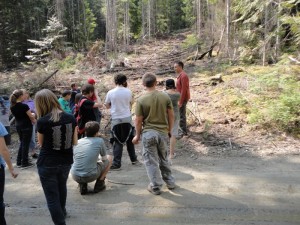 After five successful years with the Valemount Community Forest Company Ltd. (VCF), Manager Shane Bressette will be helping to train his replacement over the next few weeks.
Bressette and his wife Lorrie want to express to the communities how much they have appreciated living here amongst such good people, and for that reason, they want to express the true reason behind their recent decision to leave the Robson Valley area.
"It is not about the job," Bressette says, "or the people I work with, or any other reason than the simple desire to be obedient to God."
Bressette and his wife say they try to follow what they feel God is telling them to do, and about a month ago, they felt the strong call that they are to leave their home in Dunster and move towards the Prince George area. They listed their house for sale, and prayed to God to provide a job to support their move. Shortly after, Bressette received an offer from Dunkley Lumber Ltd., a family-owned sawmill business in Hixon, 80 km south of Prince George on Highway 97.
Bressette and VCF's part-time administrative assistant Janey Weeks made a presentation to the Valemount Chamber of Commerce on July 18, outlining the history, progress and direction for the future of VCF. During its five years as an active company, VCF has been recognized as one of the more progressive and successful models of community forestry in the Province, but Bressette is quick to pass on most of the credit. He says the success of the company whose 100 per cent shareholder is the Village of Valemount is due to "the hard work and dedication of our local visionaries and volunteers who helped take the Valemount Community Forest from a concept to an actual forest licence tenure for the community," the expertise of a highly skilled local contractor base, and financial support from the Columbia Basin Trust and the Village of Valemount. The Village of Valemount advanced $90,000 to acquire the Community Forest Agreement, and that was paid back in full in 2010, one year into harvesting operations. Columbia Basin Trust (CBT) provided start-up funds of $138,000 in 2008 which supported the company through the economic downturn. When VCF became self-sustaining ten months later, $20,000 of un-used funds was returned to CBT. According to the Village's 2012 financial statements, the Village netted roughly $800,000 in equity earnings from the Community Forest over two years between 2011 and 2012.
Bressette explained that in 2003, government regulations were changed so that companies were no longer required to manufacture near where they logged, and community forests were intended to mitigate some of the losses to manufacturing and jobs in local areas. The first priority of VCF has been dealing with the Mountain Pine Beetle Epidemic. Over 33 per cent of VCF's timber supply was pine, and their main objective has been to salvage as much as possible before losing the value of the resource to mortality in the timber stands, and to reduce community wildfire risk. VCF applied in 2010 for a temporary increase in harvesting levels from 40,000 m3 per year to 190,000m3 per year, through to December 2012. A re-assessment last fall of remaining timber led to a new long-term sustainable cut level of 33,000 m3 per year for the next five years, with a temporary allowance of an additional 75,000 m3 per year for the next five year window to address remaining pine areas.
Other priorities continue to be maximizing local employment and manufacturing opportunities, working on initiatives to expand the Community Forest Area (CFA), fostering good relationships with First Nations that have territorial and traditional-use interest within the CFA, and working with local recreational groups to synergize objectives and opportunities for the community.
Bressette pointed out highlights of VCF's work such as the creation of the VCF log yard which helped with designing consistent log-supply programs for existing local specialty manufacturing operations; $20 million in direct payment to local contractors since 2009; planting of 2 million seedlings since 2010; creation of a high school bursary fund, Community-Grant Program and a board discretionary Fund for community needs like the Food Bank; introduction of a Community Grant-Writer service to Robson-Canoe Valley which is jointly funded by Northern Development Initiative Trust; and a successful Forest Practices Board Audit, released November 2012. Bressette was asked at the Chamber of Commerce meeting if VCF is trying to buy some of Carrier's license. He says it is one of the options they are looking into, but they want to be careful about talking about something prematurely, especially since the community is sensitive about promised opportunities that haven't materialized. He also pointed out that outside licensees don't have much incentive to trade with Community Forests, and that economies of scale are always a factor.
Some of the lessons that Bressette says he and VCF have learned over the last 5 years are to be proactive with community engagement; to not assume anything; to be sensitive and sensible with potentially contentious issues; and to not "cheap out" on roads, that better planning and construction are better investments in the long run.
Bressette moved to McBride in 1989, and has worked in forestry since then. He has been the Manager of VCF since its inception. He moved to Dunster in 2009.
The job posting for Bressette's replacement closed on July 19. He intends to assist VCF with the hiring process and spend some on-the-job training time with the new replacement to help ensure a smooth transition in management for the company.
Cynthia Piper, President of the VCF Board of Directors says Bressette has been a good worker and real asset to the company. Jeanette Townsend, who arranged the presentation to the Chamber of Commerce, says she doesn't believe any group has ever been in a position to return money granted from CBT, and that in itself is a testament to Bressette's hard work and dedication.
By: Korie Marshall