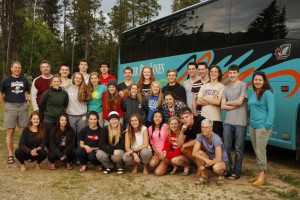 With highways closed to Canmore, Alberta due to flooding, Kelvin High School's annual one-week hiking trip faced cancellation.
Teachers leading the school group from Winnipeg, Manitoba started phoning around. Two of them had hiked the Berg Lake Trail and checked to see if they could stay in Jasper. But it was all booked up. Looking for affordable accommodation elsewhere for 30 people, they took out a map and started phoning places at random in Valemount. Luckily, they connected with Twin Peaks Resort that gave them a great rate.
"The trip would've been cancelled if this accommodation hadn't come up," said teacher Krista DeVos.
The school has taken Gr. 10-11 students to Canmore to hike for more than 30 years. This is the first time in memory that the trip had to be detoured. They have hiked to Whitehorn, to the waterfall behind Little Lost Lake, and plan to do several more hikes before they leave Thursday. DeVos and fellow teacher Landon Gibson said they have already seen a black bear and a grizzly in Valemount.
On Monday evening, the students were throwing Frisbees, playing volleyball or sitting around the fire at Twin Peaks, watching a pink-tinted sunset over the Premier Range.
The teachers say they know they will be back personally – it's hard to say whether this is the beginning of a new tradition.
They said one draw of Canmore is their ability to get to a peak every day. In the Valemount area, many day hike trails are not accessible by bus.
That said, they have felt extremely welcome by the community and say they really "lucked out" on the detour.
By: Laura Keil