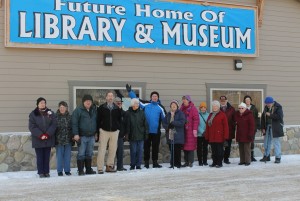 With just 32 days remaining before the closing date on the McBride Library/Museum Offer to Purchase, and with significant obstacles remaining, William Clark announced April 28th that a one year extension has been concluded with the building owner, Tom Ryan. This will allow for a cooling off of the recent rhetoric and letters to the editor, while at the same time allowing for more fundraising and the necessary bylaw approvals that Mayor Frazier spoke of in Council's recent news release that appeared in the newspaper last week.
The library and museum building committee has been working hard over the last few months to get the permissions and funding needed to move into their Ryan's building on Main St. The challenge to date has been to arrange a cooperative sit down meeting date between Council and the Building Committee… a meeting which has been attempted and cancelled by both parties on several occasions. Most recently it was delayed once again until a date well into the first week of May. Given the time that bylaw approvals take to go through multiple readings there was not enough time to meet the building's offer to purchase by the first deadline. Clark, in gaining the deadline extension stressed how tremendously obliging and cooperative Ryan and his family have been in coming up with this new plan. Ryan and his family have also offered to pay the building's taxes in the short to mid term. Ryan has also agreed to allow the committee to use the Main St. building for occasional fundraisers and public meetings as necessary to expedite the conclusion of this sale. There are no further costs applied to this extension.
At their emergency board meeting called on the afternoon of April 28th, William Clark (Joint Building Committee Chairman) and Stefi McLean (Fund Raising Committee) announced a number of projects which can take advantage of the new arrangement allowing them to use the building for fundraising and meetings.
While a number of creative fundraising projects are now on the books, and with more on the drawing boards, several significant donations have been received as a result of the in town mail-out that began a few weeks ago. The second wave of packages was mailed to other Regional District residents over the last few days and it is hoped this will further swell funds. Gifts in kind include new computers for the computer lab once the building is occupied.
It is hoped that with this new arrangement all parties can cooperate in order to secure a positive outcome for all residents.
By Chris Parker