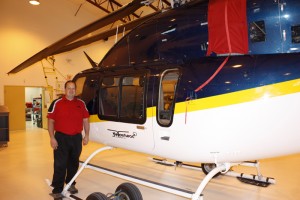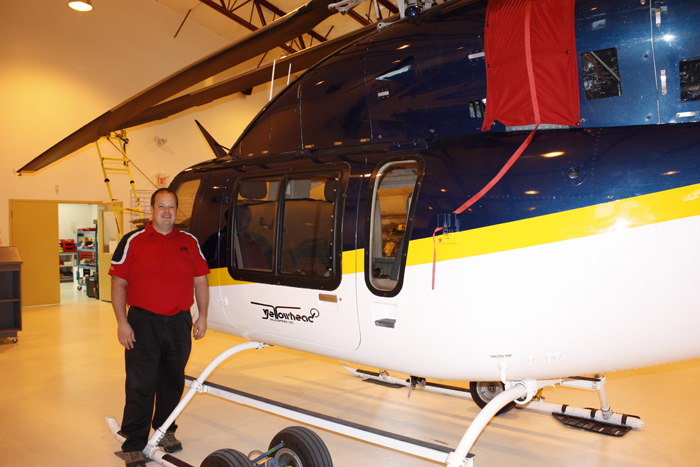 Yellowhead Helicopters (YHL) is on an expansion move that will more than double its employee base.
The Valemount-based company has been acquiring new assets for close to a year and recently signed the papers with Vancouver Island Helicopters (VIH) to acquire VIH's Prince George base, contracts, and half a dozen of their aircraft. Earlier this year, they acquired a base in Fort St. John to add to the company's dozen bases across BC and Alberta.
Once the expansion is completed, YHL will have more than doubled their employee base – from 50 to at least 100. About two dozen employees currently live in Valemount.
The new helicopters and bases will allow them to do more oil and gas and mining contracts, says Yellowhead founder and president, Garry Forman. Prince George will become a bigger hub for the company, but local residents shouldn't worry about the local hangar disappearing, he says.
"I'm sure there are people concerned that we're going to just pull out of here; well that's not the case."
He says there are certain people that like it here and wouldn't want to move anywhere. The company will still do their component overhauls here and a certain amount of flying out of
Valemount, he says. He reminds everyone that YHL has rented a hangar in PG for a decade already, so the acquisition will really just be an expansion.
YHL will also take over VIH's contract to provide flights for Mike Wiegele's heliskiing operation near Blue River. Wiegele's resort attracts high-end skiers from all over the world to Blue River each winter.
Forman adds that the maintenance personnel will likely all remain in Valemount. Forman's son Carl Forman, chief financial officer, plans to move to Prince George, primarily for personal reasons. His son Jacob Forman, operations manager, was undecided. They are still waiting for some people to accept the new job offers.
"I ain't going anyplace," Garry says.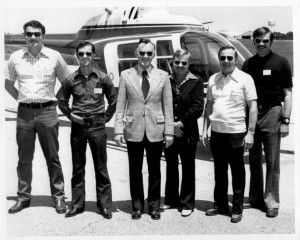 As far as how much was spent in this recent round of acquisitions:
"It's quite a bit of money – I'm not going to say how much," Forman says.
"It's been a long time trying to fit this thing together," he adds.
Forman started Yellowhead Helicopters in Valemount in 1975. In the late 1960s to early 1970s, Garry piloted helicopters in and around the Valley including many of the very first scouting missions with Mike Wiegele. In 1975, Forman purchased his first helicopter C-GYHL, a Bell 206 Jet Ranger and Yellowhead Helicopters was born.
YHL has remained a private family company based in Valemount since the time it was founded. The company now has about 10 permanent bases and a couple seasonal ones at gas plants for 9-10 months of the year.
Earlier this year they bought their first twin-engine helicopter, a Bell 427.
While it can't lift any more weight than their other helicopters, it allows them to meet customer demand for safety, said Carl Forman. The twin-engine seats seven passengers and is also faster than their other models.
There is increasing demand for helicopters with two engines from their clients, Carl says, in the rare case that one shorts out. He says it'll open new markets to the company.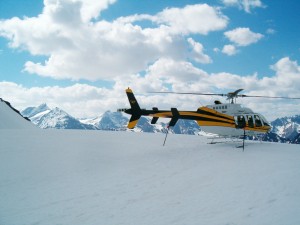 The company has also added a new Bell 206-04 Long Ranger that seats six passengers and has more power than other series. The extra power will allow them to carry more weight.
The Yellowhead fleet has shuttled celebrities such as Gene Hackman, Rick Mercer and Canadian politicians such as Prime Ministers Pierre Elliot Trudeau and Jean Chrétien.
While most of their flights are in BC and Alberta, they service companies and government across Canada.
They are certified to do rescues, avalanche bombing, power line construction, wildlife capture, mining and petroleum work, forestry work such as fighting forest fires and heli-logging and tourism such as heli-skiing, heli-hiking, heli-fishing and sightseeing tours.
Jacob Forman says there are many quality of life decisions which have led to the Yellowhead headquarters remaining in Valemount. He says some costs are higher when you are not located in a larger centre, but Valemount has always been home. He says they could outsource the head office to New Delhi if we wanted, but they all like the view here.
Jacob says if a community is better-off, employees are happier. The company donates to Meals on Wheels, minor sports, and various other community programs.