Two local men were recently honoured with a Queen Elizabeth II Diamond Jubilee Medal, which recognizes community service.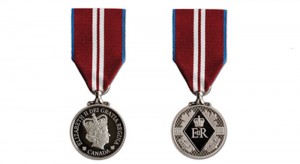 Valemount Mayor Andru McCracken and Dunster resident Pete Amyoony both received medals for their dedication and contributions to their communities.
Amyoony is well-known for his bedding plant business (which ended last year), and has been involved in many local initiatives including the recent fight to keep the Dunster Fine Arts School open. The community bought the school building from the school district and is on its way to paying it off.
McCracken was elected to public office for the first time in 2011. Before that he was Station Manager for the local TV station VCTV, and prior to that ran his own newspaper The Robson Valley Times.
The Queen Elizabeth II Diamond Jubilee Medal was created to mark the 2012 celebrations of the 60th anniversary of Queen Elizabeth II's accession to the throne as Queen of Canada.
Laura Keil