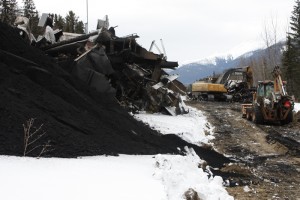 A CN derailment last week happened in the same area where a memorial stands for two men who lost their lives 10 years ago.
The derailment left hills of spilled coal contrasting the snow last week, after 16-25 cars left their track north of McBride. No injuries were reported.
On Wednesday CN crews were busy cleaning up, turning rail cars into mangled heaps of metal. The cairn memorializing the two men – a squat stone monument with a black bell – stood in the foreground of the wreckage.
On May 14th 2003, as the lead locomotive on the 85-car train crossed a bridge at Mile 7.9, the bridge collapsed. Both locomotives plunged into the creek bed, killing the the conductor Ken LeQuesne and the locomotive engineer Art McKay. As documented in the book "the Robson Valley Story," edited by long-time McBride resident Marilyn Wheeler, the train was carrying export lumber mostly, and caught fire after derailing.
The stone cairn, topped with the bell from the lead locomotive, was erected on the first anniversary of the incident.
CN was not able to confirm the cause of last week's crash by press time; it is still under investigation.
A CN crew member on site said some 25 had left the track. A CN media spokesperson later reported this number to be only 16 cars.
Luckily the site of the derailment was at least 100 feet from the Fraser River. CN spokesperson Emily Hamer reported that no coal entered the river.
"There were no environmental issues," she said.
Hamer said CN crews responded to the site after the derailment but it took roughly 24 hours to re-open the track.
The incident happened at 10:40 am Tuesday morning. Crews were still busy cleaning up adjacent to the track the following day.