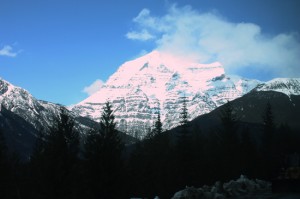 Valemount Glacier Destinations project planner and architect Oberto Oberti was on hand June 15th to give an update on the Formal Proposal which they are preparing to submit to government and First Nations at the end of June. He also took questions from attendees about the project.
The Valemount Ski Society organized the meeting on the proposed year-round alpine resort last week to a crowd of about 50 people. The Ski Society, hatched last year, has played a supporting role to the resort proposal, and helped to garner local support and to inform residents.
Oberti says local support is the key piece to making the development happen.
"I think you have a very important role here, because we are good at design, but these projects are very much influenced by the political process and the local support is crucial. When the locals want the project, the project happens."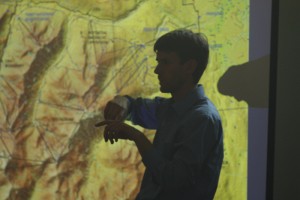 While Oberti did not unveil the Formal Proposal, he did touch on a few details about the project that have not yet been made public.
He says the local airport could easily be expanded to accept regional aircraft landings. In Phase two of the project, Oberti says they plan to have a lift directly from the airport.
The resort site itself would be located on a "logged bench" between the Village of Valemount the Premier Range. There is already access via resource roads.
He also touched on a possible boundary expansion of the Village of Valemount to encompass the resort base for the benefit of its tax base, among other things. He says the resort itself would be virtually car-free at full build-out.
The proposed plans would create a very unique product in several respects. It would allow people to ski through four valleys which exists nowhere else in North America, Oberti says.
There would likely be 15 lifts which could open entire mountains to skiing and sightseeing like never before. It is, after all, "mountains" they are marketing, not ski hills, he reminded his listeners.
"BC already has too many ski hills. What we intend to do is different and can bring the ski industry to a new level in BC."
He says the project would be "helicopter skiing without the helicopter," opening up skiing to three glaciers and possibly have the biggest vertical drop in North America – close to Chamonix in France.
"It would be low density skiing at an economical cost – something very few places have," he said.
It would be only the second year-round ski resort in North America, whereas there are 36 in Europe.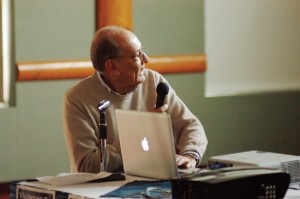 Oberti says it would be a step toward making B.C. a world-class ski destination, similar to the Alps. He says people will pay $1000/day to ski places like this. All-season sightseeing for the Premier mountain range and Mount Robson will like¬ly be just as popular as the skiing itself, he adds.
He says he hopes to have bi-partisan provincial government support, and already has the support of Simpcw First Nation, this area being part of their traditional territory.
Simpcw First Nation representative Fred Fortier said what they are interested in is sustainable development.
"Boom and bust don't work," he said. "We're looking at where logging is right now."
He added that in the past 100 years, Simpcw people have been left out of economic development opportunities in their own territory.
"Our children have suffered because of that. We want to assure you as people in this valley and this town, we don't want to treat you or your children the way we were treated. Because we think that every child should grow up having the best thing they can. We think they could be a world champion skier. That's the hope we can have for our children."
Simpcw Resources Ltd. has been involved in many economic development projects in the region. Fortier says they would like to promote cultural eco-tourism as well.
"There are lots of people who are interested in what we do. Share our songs, share our dances, share our innovations and practices."
What about the Jumbo?
The question of the Jumbo came up in terms of what it means for the Valemount project. The Jumbo Glacier Resort project located 50km west of Invermere in the Purcell mountain range has been held up due to vocal resistance by some local groups and First Nations. Oberti has been involved in the design and project management since the 1990s.
Oberti says both the Purcell and Premier Mountain Ranges were identified in 1989 study he did to uncover the best ski locations in North America. They were just two of three locations recommended.
The Purcell Range was given precedence at that time due to its proximity to Banff and Calgary. But he says Valemount's slightly greater remoteness may actually be an advantage today, where people are looking for more unique experiences.
Oberti says it may be easier to justify interested French investors entering the North American scene with both the Jumbo and the Valemount project rather than with only one.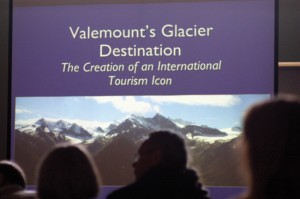 For international investors, Oberti says these projects are relatively small and the opportunity to do more than project allows them to reach a critical mass that is more economical. In other words, certain departments can be shared. Marketing similar high quality projects attracts international clientele at less cost.
A delegation of mostly technical specialists from France paid a visit the site of the proposed Valemount Glacier Destination alpine ski resort project in March. Project planner and Vancouver architect Oberto Oberti says he considered the visit to be an "unmitigated success."
"Our French friends left completely enthusiastic about the people, the reception, the First Nations' presentation, the official welcoming from the local and provincial officials, the food, the atmosphere and even the weather and the snow," he said at the time.
Among the French group was Benoit Robert, a managing director of France Neige International. The company advises alpine sectors wishing to develop a sustainable tourism and promotes the development of French mountain knowledge internationally. The technical team also reports to the Compagnie des Alpes and Caisse des Depots, all three of whom work together.
Oberti hopes to have the Formal Proposal done by the end of the month. If it receives government and First Nations approval, they will move on to a Resort Master Plan which means a detailed plan that sets out the phased and orderly recreation and real estate development, if any, that is to occur within the resort area. It provides technical and management information necessary to support the sustainable development of the resort. A Resort Master Plan forms an integral part of the terms and conditions of a Master Development Agreement, the final step in the approval process.