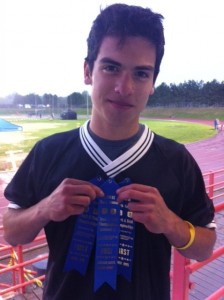 Valemount's Omar Medina will be representing the Valley at the High School Track and Field Championships in Burnaby, June 1-2, after taking home three first place ribbons at the North central district zone track meet in Prince George last week.
They were not easy victories. It was cold, rainy, snowy and it even hailed while the boys jogged on the spot to try to keep their muscles warm.
"All our muscles were cold," Medina says. "The weather pretty much could not have been worse."
He slipped and fell during the 200m race at the North Central District zone track meet. But Medina got up, kept running, and won.
The most agonizing point of the meet was after the 100m race. Medina got an early lead but a 16-year-old runner from Prince George closed the gap during the last stretch of the race. Medina, who just turned 14, flung himself forward at the finish line, dove and rolled out. But to victory?
"We had to wait 40 minutes to get all the slow motion footage and see it again," Medina says.
"Finally it showed my chest forward."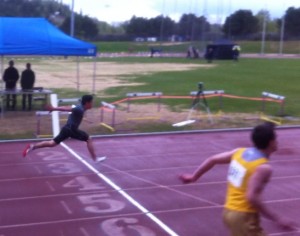 Medina participated in Provincials for cross-country. This is his first time competing in track and field.
He spent a week training in Prince George before the zones meet, which he says was not enough. He says he knows his performance will be far better the next time round and will be training in Prince George for the next two weeks, after getting permission to be away from school for that time.
He jumped 5m 40cm in long jump, ran the 200m in 25.03 seconds and the 100 metres in 12.26 seconds.
He aims to get the 100 metres under 12 seconds.
"It can happen," he says, adding that the winner in his age category at provincials last year got a time of 11.59.
The record for the 100m as reported by BC Athletics is under 11 seconds.
He says part of the training is core workouts. His trainers have also asked him to give them a diet plan for the week to see whether he is lacking any nutrients.