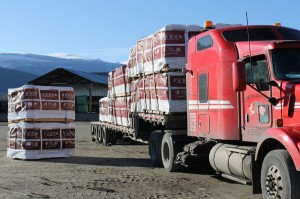 On Nov.3 TRC manager Gary Hayes announced the signing of not one but two major contracts for the idle TRC Cedar Mill in McBride. Together these two contracts are estimated at a combined value of $6 million, according to Tom Ryan, president of TRC.
The company advises that the contracts in question are lengthy by forestry standards and would span 2012 to 2014.
Dwayne Vause, who managed TRC at the time of the last shut down, confirmed that the number of truckloads would require a workforce of about 35 people for the duration of the newly signed contracts. This was based on one shift per day, which would then provide an opportunity to continue to reach for further orders and thus run a second shift.
Vause suggests that while there have been no specific discussions on his personal future with TRC he was aware from recent discussions that Ryan would be continuing to recognize three important words as they ramp up production: safety, quality and only then production.
The two contracts are with the number 2 and number 3 box store home improvement chains in the United States. Lowe's the number 2 chain, has committed to at least 30 truckloads of product on their initial order, while Menard's the number 3 Chain in the US – who are the largest seller of split rail fencing – have committed to 150 truckloads per year through 2014.
Hayes emphasized that the breakthrough in attracting business is the direct result of a concerted effort to develop new markets. Both he and owner Tom Ryan have travelled extensively throughout Canada and the United States, he said. He was clear that the existing business with the 17 brand names of regular and or coloured cedar that are currently being produced by TRC would continue. Further that exploration of the possibility of producing Hemlock Wood Chips is now a distinct possibility.
To be clear on the production volumes, Mr. Hayes emphasized that the plant would be operating one shift full time to produce the product for these contracts, however some of that production would be stockpiled over the winter for shipment in the busy spring and summer landscaping season. The bagging plant for the wood chip orders is all ready to go and would be starting as soon as a full crew was assembled and trained.
The product for these contracts will (it is hoped) be produced from McBride Community Forest Corporation lands, assuming that a suitable production schedule and pricing can be agreed upon.
Marc von der Gonna, Manager of MCFC, said they are not yet aware what the fibre supply requirements will be for the next three years.
"MCFC is happy to hear that TRC has announced their receipt of a 3 year contract with Menard's," he said in answering the Goat's questions via email.
He says cedar comprises approximately 18 per cent of the community forest's timber profile. Given their annual allowable cut of 50,000 m3, von der Gonna says they can sustainably supply about 9,000 m3 of cedar per year.