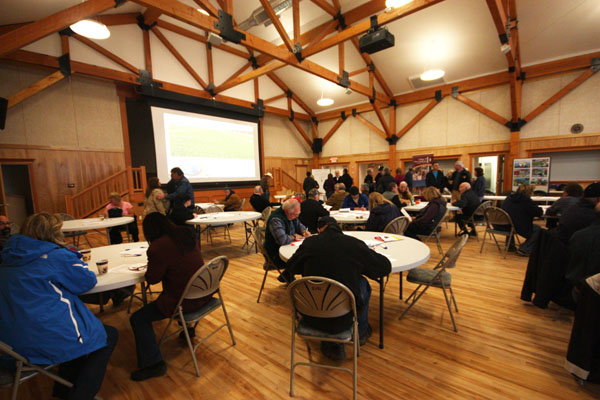 ecoTECH held their job fair last weekend to an enthusiastic crowd. It was also an opportunity for job-hopefuls to meet with some of the executives of ecoTECH.
"We've found some really neat people who can help us," said ecoTECH CEO Colin Hall said. "It could not be better. It's been absolutely suberb."
The aquaponics industrial park would be the company's first project in BC. The technology itself is new as well, and is currently being tried out in Alberta on a commercial scale.
The company is still confirming investors, as not all the financing for the $80M plus project is in place yet, said Terry Ferguson, VP Business Development for ecoTECH.
"There's a lot of building blocks that still have to come together for a project like this and they lean on each other, so to speak. We're at that stage where things are pulling together."
Applicants for the construction season may hear back in the next few months, Hall said. Applicants for the second stage of the project likely won't hear back until the spring.
The first jobs will be for renovations of the forestry building and will likely not involve more than a dozen people, Hall said.
There is also clean-up to do at the Lamming Mills townsite due to the arson that burnt down 21 houses last June. The environmental assessment is underway but hasn't been completed yet, said Hall.
"Now we need to look at what the clean-up really entails," he said, adding they know the water access and zoning is already cleared up to build on the Lamming Mills site.
"I've deliberately not done the planning for anything on-site until I've talked to the key people who will put it together. It's been a question of being patient."
The company has never done a project of this kind. Their partner company HydroNov has done green houses on a similar scale and the aquaponic system is being used by a company in California.
A pilot project in Brooks Alberta used similar technology and another company is testing it out on a commercial scale near Lethbridge. That group is about a year ahead of ecoTECH in terms of developing the site, Ferguson said.
Ferguson said they believe there will be enough profit in the project to make it worth their while as well as to pay good wages and be a good community member.
"We have a bit of a stubborn streak in us," Ferguson said. "We like the area and we like thepeople."
The company is looking at partnering with the local high schools as well as the College of New Caledonia for training purposes, as CNC offers a horticulture program.
ecoTECH has had its eye on the McBride area for close to a decade. Their original idea was for a power project that would have used the excess heat for aquaponics. Ferguson said they are still working on a separate project to bring a power line to the Valley to create a true "grid" for power in BC, but it's been slow.
"We started off as a power station with a heat surplus that would run an aquaponics production, to an aquaponics situation off-grid to get the program started because BC Hydro are not in a position to build power – yet. When they finish discussing their situation with the Province, I'm pretty sure we'll be talking again."
In terms of aquaculture, the company plans to raise Tilapia and giant tropical prawns as well as possibly trout and arctic char.
"We've got orders already for as many Tilapia as we can produce, as many shrimp as we can produce," Hall said.
The contract with the buyer is under a non-disclosure agreement, but Hall said it is a major Canadian grocery chain.
More than 200 people showed up to the job fair last weekend to fill out applications and talk to executives from the company.
Eric Johnson, a long-time McBride resident, says the project is just what the Valley needs.
"I think it's awesome," he said.
He worked at the McBride Forest Industries mill for 23 years before it shut down five years ago and says the mill probably had just 50-60 permanent jobs in its heyday – a third of what the ecoTECH project would bring to town.
Both he and Chris Rejman who sat beside him already have jobs, but they filled out applications just the same. Rejman is busy as an electrician but he said a job with ecoTECH could lead to more steady work closer to home.
Employment councillor Bob Thompson said a lot of people have sacrificed a better job in the city to remain in McBride and are excited about this opportunity.
"People love the quality of life here and are reluctant to sell their house at a loss and move to a big centre," said Thompson. "A lot are doing piecemeal work and living in poverty just so they can stay here."