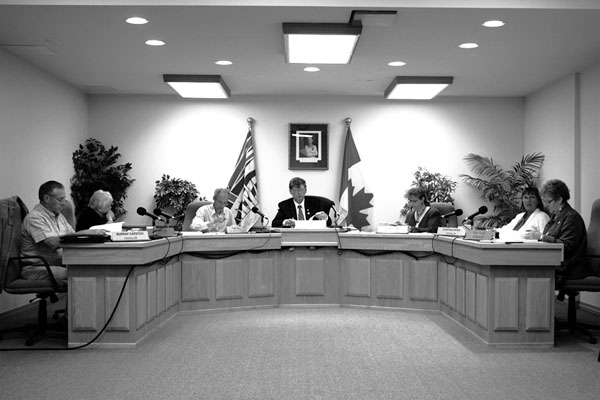 By: Laura Keil
It's in the air already. That buzz about who will run for council this fall. The October deadline for nominees is approaching and locals are thinking about whether they will run for municipal office.
The Mayor of Valemount Bob Smith has already announced that he will not be running for re-election. So who will take his place? The bare rules are simple: a person has to be 18 years old and have lived in BC for six months before the election. The person doesn't have to be a resident of the municipality they are running in.
But before people do sign their nomination forms and pen their campaign speeches, the existing mayor and council have some, well, counsel.
Valemount Mayor Bob Smith says before running for Mayor a person should have some experience on Council already, as there is a lot to learn about how things operate at the Village.
"There may be some very experienced people out there with business or academic backgrounds who could do it, but to me it's partly about common sense in the position."
He says "common sense" is about always looking at the big picture, a point of view that comes partly from serving on Council. For instance, if a bylaw is being approved by council, mayor and council can't cater the bylaw to one or two particular businesses. Balancing all those interests is a challenge, but a necessary one.
Smith says one of the reasons he will not be running again is that he wants to spend more time with his family and acting as mayor requires a lot of travelling.
Former Valemount mayor Jeannette Townsend says you have to be deeply committed to the welfare of the community, but the most important thing is to be prepared to work hard.
"People shouldn't be running with a cavalier attitude. They have to be prepared to work hard."
Often there are other sacrifices too.
"Your personal life a lot of times has to go on hold. If one isn't prepared to do that, then one shouldn't run, because it's not fair to the members of the community."
She says mayoral candidates need to look at the duties of mayor, as well as the oath of office, a vow that a person's actions will be to the benefit of the community and private interests will not sway their decisions.
She says candidates shouldn't think of it so much as an occupation, but more like a vocation, in other words a calling to serve the community.
As for who might be a good candidate?
"There need to be candidates with business acumen and people who can understand financial statements."
Cynthia Piper says she will most likely be running again after six years on Valemount Council. She says it's a challenge to balance everyone's interests, but it's a stimulating job.
"I've truly enjoyed it. I've found it fascinating. There are moments where it's boring, but mostly it's very interesting."
She says there is nothing in particular a person has to know before running for Council, as long as the person is keen to learn new things and passionate about the community. She says coming in with one agenda is not a good thing, since there are many things going on behind the scenes.
She says being on Council has been "a real eye-opener."
"People think 'Oh you're not doing anything, you're not trying to get anybody here, but a lot of the stuff you do in camera."
Labour, law and land are three issues that must be discussed in camera for the good of the community.
"But you have to remember that Mayor and Council don't micromanage the village – you have staff that do that."
Once council is elected, first-time councillors or mayors must attend "Charm School" usually held in the Lower Mainland, which introduces them to their roles and responsibilities as public officials.
Bobbi Roe has served two terms on Valemount Council and says she won't be running again. She says she is hoping to see young people on Council and is approaching several in town.
"Young people have new ideas and they're up with technology and what's going on in the world."
She says there is a lot of reading to keep up with all the meetings.
"I think a lot of times we get the idea that we're going to be on town council and just get in there and change things, but you can't do that. You're only one vote of five."
Working towards the betterment of the whole community – not just part, is one of the challenges of taking office, Roe says.
"Sometimes that means going against friends and family. But you have to weigh all the information to make sure the decision is for the betterment of the whole community. You can't let your emotions get involved."
She says there are many times Council will make a decision that causes some people in the community to get upset. Because it is a small town, it can affect family and friends.
She says even when she is not in a specific meeting, a person is always trying to attract new businesses and encourage people to come to the community and invest here.
"I can't really pin it down and say there's X number of hours you're going to spend, you just need to have the time to commit to it and that's hard for young people. They have to make a living, whereas a lot of us (on Council now) are semi-retired or fully retired ."
All the same, she says she has already approached several young people who she thinks might consider running for Council.
Nomination forms will be available at the end of August from the Village Office. The election date is November 19th, 2011. A person must have been a resident of BC since April 12th 2011 to run for office. Volunteer fire fighters are considered Village staff and are not permitted to run in this election. Corporate Officer Sandy Salt says they may consider changing that rule for the next election.