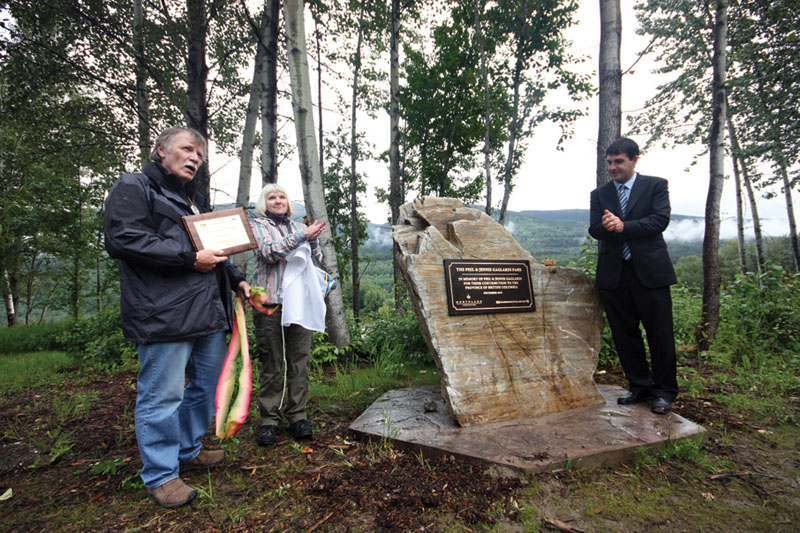 Laura Keil
[email protected]
McBride residents and stakeholders gathered at the banks of the Fraser River last weekend to celebrate the opening of the village's new wastewater treatment system, which features an eco-sensitive technology never used before in Canada.
"This is a big deal for us," Mayor Mike Frazier said. "It's a kinder, gentler, friendlier way to deal with this issue."
By treating wastewater so it can support a wetland habitat for wildlife and eventually a lake, the project created an opportunity to establish the Phil & Jennie Gaglardi Park, a new recreational resource for residents and tourists. By turning sewage into clear wastewater, the project removed the threat of spillage into the Fraser River.
"This project was born out of a difficult situation where community wastewaters were entering the Fraser River," said Rodney Sidloski of HELP environmental organization at the opening to the park.
Sidloski said at the opening that McBride will be the first community in B.C. to prevent any wastewater from entering an existing water body.
"You are the first community to stand up and say 'We want to do things differently.'"
He said Canada has to stop putting nutrients from wastewater in water bodies.
"It's plant food not fish food. This community is the first to recognize that."
The Village has secured long-term agreement with Northland Properties Corp. (Sandman Hotels) for the use of the land for wastewater treatment. The Park is named after the Gaglardis who founded the Sandman Corp. in 1967.
Mayor Frazier said because of this agreement residents and businesses don't have to worry about wastewater management for at least the next few decades.
"This has helped us secure a huge piece of McBride's future," he said. "We can move ahead knowing that we have one less potential problem."
As there is no sewage treatment plant, it's less expensive than an ordinary treatment facility. Sidloski said that the town no longer has to worry to the same extent about chemicals flushed down the drains, since the wastewater ends up in a forested area, rather than a river.
He awarded the Village HELP International's 2011 Environmental Leadership Award.
The B.C. provincial government provided more than $1.2 million to support the project, which earned a Best Community Project award for 2010-11 from the Economic Development Association of British Columbia.
B.C.'s $1,209,265 funding for the Village of McBride's eco-sensitive wastewater treatment project comes from the provincial share of the Building Canada Fund – a joint federal-provincial program to support local infrastructure projects. The Village of McBride contributed about 30 per cent of the total funds for the project.
Trees dedicated to loved ones, outhouses and a gazebo are some of the new additions to the area. The park will be completed in 2012.