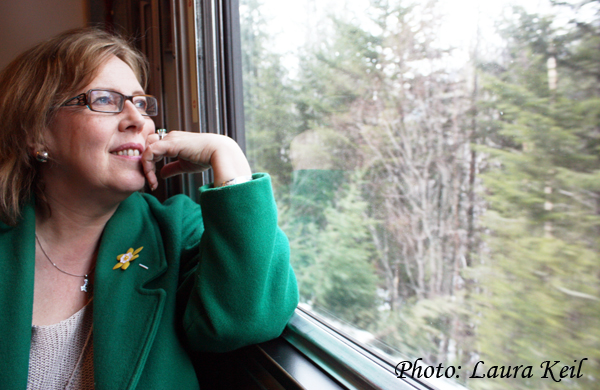 Elizabeth May's next rally is in about two hours. That's about how long it takes to get from Valemount to Jasper on the train.
While other federal party leaders jetted through the skies from one city in the past two elections, she is riding the train for her low-carbon footprint cross-Canada campaign, accompanied by her daughter Victoria Cate.
Still the underdog in Canadian federal politics, May has growing support, and this long-time activist hopes to finally gain her party's first seat in the next federal election May 2nd.
Her jovial greeting to a dozen Robson Valley residents gathered at the platform Monday didn't seem the least bit tainted from recent snubs and disappointments in the political sphere. She insisted that the group sing 'Happy Birthday' to Valemount local John Grogan, before she got back on the train. She's not much like a real politician, she said, and I began to see why.
In her green blazer with an Ian Rankin mystery novel tucked behind her, she spoke to a few local reporters in a train car as it slid past Valemount and Mt. Robson. She said one of the biggest misconceptions about the Green Party is that it's a single-issue party. The Green Party has integrated policies on every part of governance, she said. The economy is central to their platform, she said but it wasn't detached from the environment, or jobs, or health. She spoke about how the current government is distorting prices by subsidizing the oil sands. It is not just bad for the environment, she argued – it's bad for the economy, because it skews the value of the dollar upward which is bad for exports.
In their platform they have policy points for tax reform, ways to decrease the deficit and boost employment which are vetted by financial experts, she said.
Her "shadow cabinet" includes very prominent doctors, lawyers and businesspeople who are all interested in seeing change in the way our country is run.
Yet the Greens are still sidelined by mainstream politicians, press and voters. With candidates in almost every riding this election, they are hoping that will change.
Some high profile endorsements have come their way. The Canadian Federation of Municipalities has endorsed the Green Party for supporting long-term, stable investments in Canadian cities and communities and addressing the long-term costs of updating infrastructure like waste water treatment plants, bridges and road repair, affordable housing, and public transportation.
May, who sat with a reusable cup filled with tea, said a big part of her idea for Canada is to stop wasting energy and instead create jobs that can decrease our energy consumption – in trades for instance, where skilled labourers are essential for building upgrades.
She joked that her idiling Hummer awaited her in Jasper, but her strong critiques are not for pimped-out drivers but for current politicians for failing to provide people opportunities to save money and get green jobs.
Beyond that, her demeanour is far too relaxed and jovial to show any bitterness. She says one of her favourite things to do during campaigns is to stand at a street corner in her home riding beginning at 7 a.m. and wave to passing cars as people head to work. She gets lots of friendly honks and waves in return.
Finding the cross-roads of the Canadian population has proven more difficult. In 2008, the party received just under a million votes, but failed to capture any seats in the last two elections. They were the only party to gain support from the 2006 election, however, capturing seven per cent of the popular vote – a similar percentage to the Bloc Quebecois which currently holds 47 seats in the House of Commons.
While the NDP and Greens have many things in
common, May said Jack Layton told her he would
have nothing to do with the Green Party, which May
attributes to the stranglehold the other leaders are
trying to keep on their power – another reason why
she was not let into the televised debate on CBC, and
none of the other leaders boycotted it or made a move
to include her.
"There are a lot of fundamental questions about
what's happening in this country that nobody's talking
about, and only the Greens are. I think it's no
coincidence that the media powers that be, in collusion
with the political parties, want to keep us out of
the debates and out of the election."
In other words, labelling the Greens a fringe party
is an easy way out, but May says voters in 305 of 308
ridings will have the option of ticking the Green
Party box this election. May will be running against
incumbent Conservative MP Gary Lunn in the Saanich-
Gulf Islands riding. Last election she was narrowly
beat by Peter Mackay in a Nova Scotia riding.
While the Greens still have a ways to go, May is
careful always to state things in the positive: "Once"
her party gets into the House of Commons, not "if."
The Green Candidates
Hilary Crowley is the Prince George-Peace River
Green Party candidate. She lives in Summit Lake with
her husband in a log house, which they built themselves.
Crowley is a physiotherapist who founded
Samuha Overseas Development Association, a charity
which supports children with disability in India.
Donovan Cavers is the Thompson-Caribou candidate.
Cavers is chef and owner of Conscientious Catering, a
catering company which uses exclusively local, organic,
and/or fair trade ingredients. Last year he received the
Kamloops Chamber of Commerce Greenest Business
Award, and is currently doing his campaign on his bike.