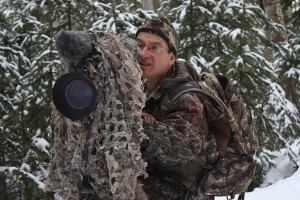 Leon Lorenz lowers his voice to match the bear's lowered ears.
Softly he instructs the grizzly: "Close enough."
This isn't an ordinary photo shoot. And while he keeps one hand on his gun, it's the calm words that are his ticket out alive.
But 53-year-old Leon Lorenz has done this before.
The wildlife videographer has bartered with moose, black bears and grizzlies. Last summer his video of a mama grizzly bear charging towards him with her cub made international headlines, appearing in the Globe and Mail, NBC, and CBC's The National, among others.
It was a flash of attention of the very private life he leads in Dunster, about an hour west of Jasper National Park. Since quitting his job at the lumber mill 14 years ago, he has supported his family from his rare footage of wildlife.
In May he'll be releasing his seventh film, called Wildest of the Wild, his first film in high definition. But there's still one shot he is trying to get.
Cougars.
He has tried to ambush the nocturnal felines, but for one reason or another, it hasn't worked out so far.
I'd been speaking to Leon for months about joining him to track cougars. This would be a quick outing – just a couple of hours on snowshoes. Part of his new film is about what goes on behind the scenes – he even staged a re-enactment of the grizzly attack, filming how he reacted. I wanted to see for myself.
To read the full story, buy this week's issue of The Goat, or subscribe online for just $3.50 a month – contact [email protected] or [email protected]