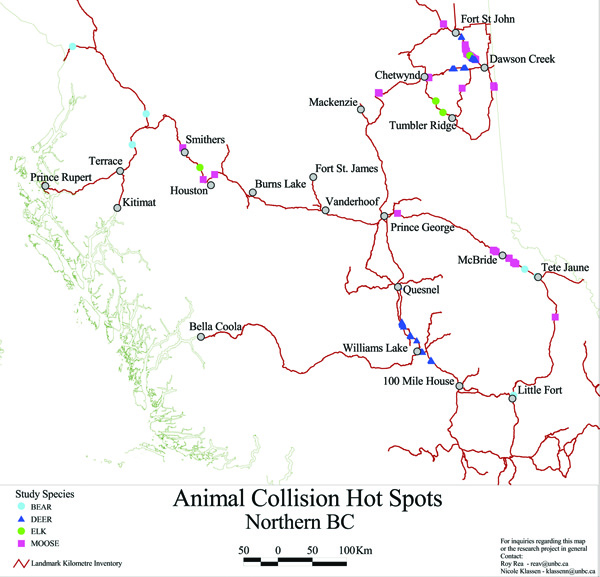 They are wet, they are mucky and they are attracting wildlife to the highway. Mineral licks- naturally occurring mineral-rich ponds- are attracting moose along Hwy 16, but a new program intends to help.
For the first time in B.C., researchers and highway maintenance crews will be filling in those beacons for wildlife with the goal of decreasing vehicle-animal collisions, says Gayle Hesse, co-ordinator of the Wildlife Collision Prevention Program, which is managed by the B.C. Conservation Foundation.
"The moose are attracted to these mucky wet soils and the minerals associated with them," she says. "They will come and lick up the water and the soil found next to the highway."
Researchers have identified 29 moose collision hot spots in north-central B.C. along Hwy 16. Nine of those hot spots are associated with mineral licks.
Carnivores get a variety of minerals through meat. But herbivores, such as moose and deer, don't have access to minerals through eating meat, Hesse explains. Females crave these minerals, especially during the spring when they are nursing new calves.
During rutting season in October and November, one deer dies every four to five days as a result of colliding with a vehicle around Valemount and McBride. In December and January, when moose are most active, a moose dies every four to five days. There's another peak in deaths during spring, due to calving season.
Maintenance contractors have been out in the McBride-Valemount area deactivating sites in the past couple of weeks, Hesse says. They are using one of two methods: fencing or filling-in.
The fencing method is effective, but expensive, Hesse says; and filling in the area with rocks is still attracting animals to the location.
"What we're finding is the moose are coming to the fenced area and they look around and then they go away," she says. "There's a lot more activity at the rocked areas."
And while effective, fencing also has drawbacks when it comes to disturbing free movement in the surrounding ecosystem.
"You could almost fence the whole thing from Prince George to McBride," she says. "But if you fence, it kind of restricts animal movement throughout the landscape. That has a really big effect on carnivore populations."
Hesse says the increase in collisions in the past 15 years is significant. The number of deer collisions in the Robson Valley more than tripled between 1996 and 2005, going from seven to 27.
She says for every dead animal that highway maintenance contractors remove from the road, they figure another three are hit and killed, but move away from the road to die.
Hesse says they'll put rocks on the licks that are close to the road, and the ones further away will be fenced, but it's too early to determine the best method. They are monitoring animal presence at each site. Moose are more attracted to mineral licks, and they have not yet examined a correlation between deer and mineral licks.
"In terms of reducing collisions, it's pretty hard to tell," she says. "We don't yet have a year of data."
Minerals licks are widely distributed in north-central B.C., so taking away sources near the highway should push animals to other available sources, Hesse says.
"It's a success story in many ways," she says. "The Ministry of Transportation is taking some proactive steps."
Due to the discovery of mineral licks, Hesse says they can now pinpoint where to put up new reflective signage warning motorists.