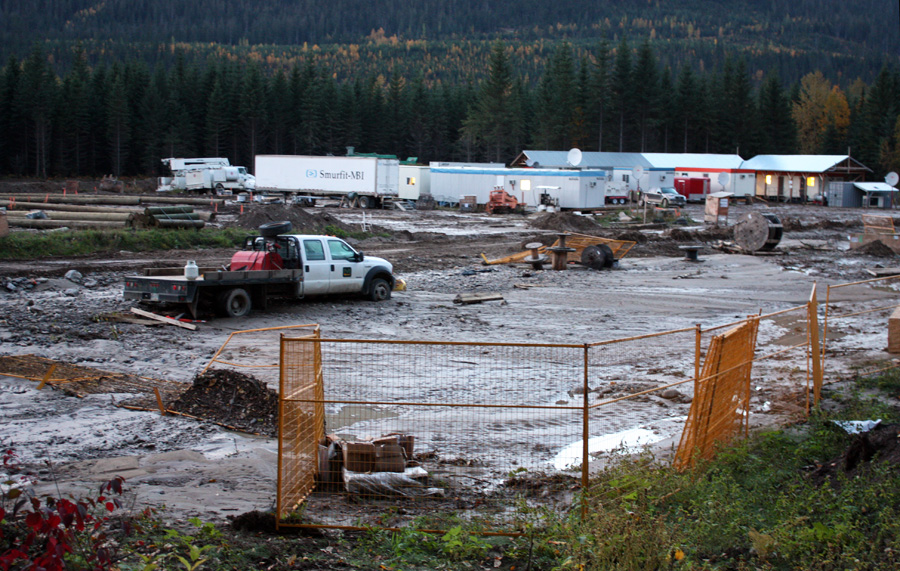 Torrential rainfall Sept. 27 combined with warmer temperatures melting fresh snow caused severe flooding in the Albreda and Blue River area Sept. 28. An estimated 24 mm of rain fell between 3 a.m. and 5 a.m. Sept. 28, causing a wash out at TransAlta's Bone Creek hydro project under construction 20 km north of Blue River. Creeks swelled with thick brown muddy water, and the hydro project was forced to suspend some operations to deal with a breach of Bone Creek.
According to onsite contractors and workers, some washed out debris and trees created a dam which diverted the river right through their generator site. Over a foot of water was running through the generator housing site as heavy equipment and crews attempted to contain the overrun Tuesday morning. Boom kits were also deployed.
According to TransAlta spokesperson Tana Smith, the natural phenomenon caught them by surprise.
"There was a mud slide approximately 16.5 km upstream we believe may have contributed to the flooding. The containment wall was not breached, however the water overflowed over the containment banks and into the pentstock. This flooded out the facilities at the bottom of the pentstock pipe which has not yet been hooked up to the generator house," she says.
For a few hours, water flowed freely down the pipe causing significant damage to the main generator housing site. Crews and heavy equipment were able to create a diversion ditch back into the river before damage to structural foundations occurred. At the bottom site, tools were lost and some equipment was damaged. Trucks were also left half buried in mud, and a small lake formed at a lower cleared area on the lease site. Smith says some debris washed down the pentstock pipe and questions remain regarding its damage.
"We're currently doing an assessment to see if we have to mitigate any of that, however within 24 hours of the flood, the site returned to near normal conditions."
At the intake site, where the containment banks were breached, some contractors reported losing valuable equipment including generators and power tools. Some crews were already onsite when the breach occurred, but because crews were not yet working, nobody was injured Smith says.
"They were able to leave on their own."
Smith says that TransAlta expects to be completely cleaned up and back into construction mode by the end of this week. This event is not expected to delay the project completion date set for this winter. Smith adds that efforts have already been directed to improve the containment walls and banks at the intake site.
"We have ensured that this won't happen again."
(Updated Oct. 5th)