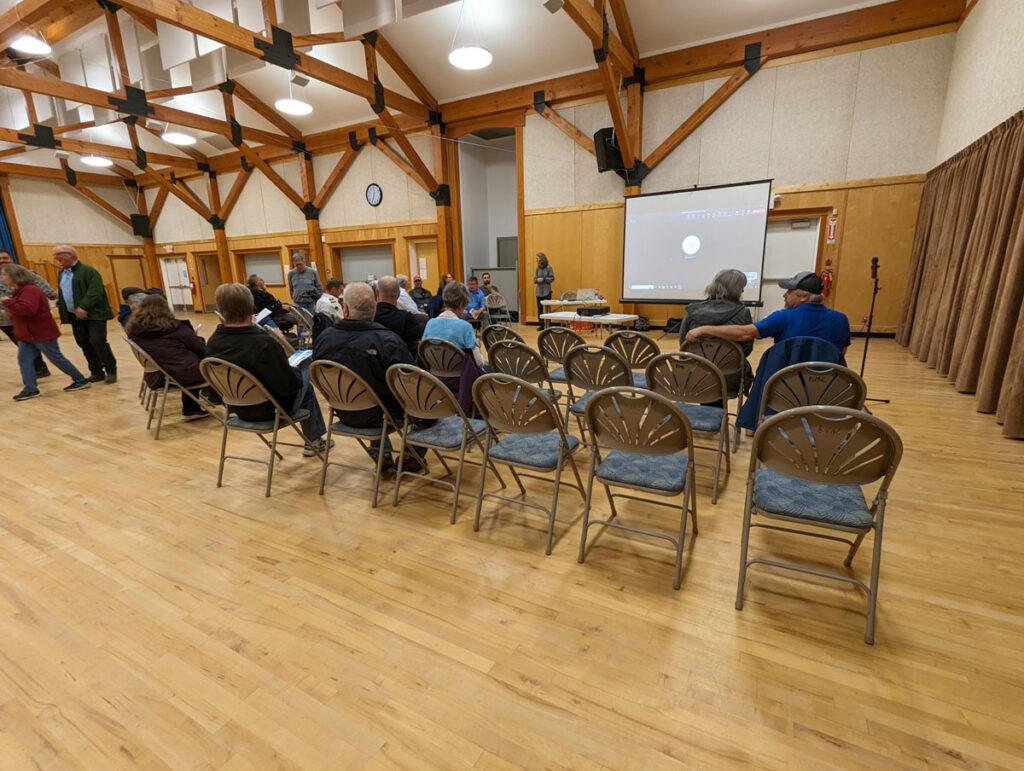 By Spencer Hall, Local Journalism Initiative Reporter, RMG
Representatives from the Village of McBride gave residents an update on the drought situation in McBride at its October 12th Water Conservation Open House.
Director of Finance and interim Chief Administrative Officer, Sandy Salt, kicked off the open house by providing attendees a brief timeline of the drought in McBride. She said the Village was already going into a mid-range drought level in late 2022, which prompted staff to closely observe the Village's water supply at the beginning of 2023.
"Although the drought level was back down to level one on June 1st of this year, it rapidly increased to level four by June 29th," Salt said, adding this time of year is usually when the village sees the most snow melt and turbidity in Dominion Creek — the Village's sole source of water.
But this year's snowmelt, or freshet, was estimated to have occurred a month earlier, prompting the village to issue a news release urging residents to conserve water. However, water usage didn't decrease and the Village declared a State of Local Emergency on September 19th and implemented water usage restrictions on September 20th.
Since water usage restrictions have been in place, daily usage has remained below the Village's daily target of 365 cubic meters, but during his presentation, Foreman of Public Works with the Village of McBride, Matt Slaney, said he'd like to see water usage even lower going into the winter.
"We're down to 275 cubic meters per day. That's down from 500 before the local state of emergency. People in town are doing the right thing and conserving water. I'd like to see it lower between 200 and 225," Slaney said.
He told attendees they won't be able to keep their taps running to prevent their pipes from freezing this winter and urged residents to winterize their plumbing.
Civil Engineer in Training with R. Radloff and Associates David Franzmann told the crowd B.C. has been in a drought since last year, which contributed to low snowpacks this year.
He added Dominion Creek is a fish-bearing stream and the Water Sustainability Act requires creeks to maintain flows to protect aquatic life.
"The Province can, through regulation, actually restrict the amount of flow that users can draw from the creek. Currently, there are two systems in the province where they actually have restricted water use. It's a rare occurrence. But, Village staff are concerned with the flows and the hot weather and worry that the low flows will persist into the winter," Franzmann said.
He said the key to conserving the water source is continued water conservation.
McBride Fire Chief David Hruby said the department is an essential service and thus a high priority for water consumption if needed.
That said, Hruby said the department has cut back on its water consumption during training and is looking at ways to fight fires with less water.
He reassured attendees that fire protection is still active and the department isn't experiencing any shortages.
"We're working directly with the Village and the Regional District. In the summer we can always find alternative water sources — winter is the problem. We're working on what we can find for alternate water supply if we need it in the winter," Hruby said.
The last presentation of the evening was a climate vulnerability assessment from John Taylor, a senior engineer and partner with Core6 Environmental, which offered attendees an insight to what weather could look like in the coming years on a regional and municipal scale, using Prince George and the Omineca Region as an example.
Taylor said Northern B.C. is experiencing an accelerated rate of climate change compared to global average, with an average increase of 1.7°C per year compared to the national average of 1°C.
He said in the worst case scenario, snow precipitation in the Robson Valley is estimated to decrease by about 40 percent by 2055, which will likely impact local water sources.
"There's gonna be less snowpack ,earlier freshet The glaciers, the icepack, the snow fields are rapidly decreasing. There's less meltwater feeding the rivers and creeks in the spring. The steady flows that you see increasing rivers, you're not going to be seeing it as we have in the past," Taylor said.