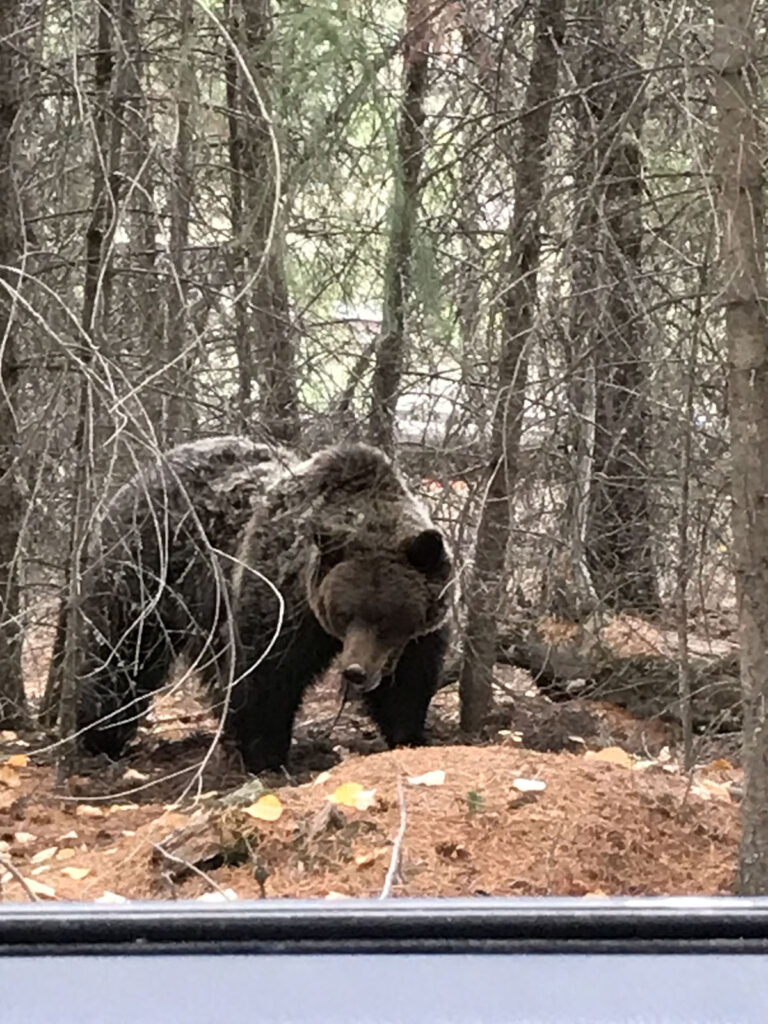 By Laura Keil
Several sightings of grizzly bear in and around Valemount have locals warning the public to give the bear plenty of space and to carry bear spray.
Jean Ann Berkenpas was out for a family bike ride with her husband and two young boys on the Green Mile bike trail on Sunday. They loaded up their truck and drove back along the Beaver Brush Traverse, which runs parallel to Loseth Road, when they caught sight of the bear.
"I saw it hauling a deer leg out of the pile it had dug, but I don't know if there was more," she said. "There are a lot of ravens around there."
She said the kill – possibly something that got hit by the train on the nearby tracks – may have been consumed by now. The bear was spotted again Tuesday morning in the ditch near the Golden Year's Lodge.
Marian Plummer drove by the bear on the bike trail road.
"Hopefully, someone with authority will put up signs that the area is out of bounds because of the bear," she said. "The Bike (Park) uses that road, and not everyone may be aware of the 'unseen dangers', lurking slightly over the bank. This guy is huge, and you don't want to mess with him!"
Part of the problem with signage is the large range the bears can cover in a day, as the same bear has been spotted as far as Blackman Road.
Berkenpas says people should give it lots of space. She's concerned there could be an unfriendly encounter if it's protecting its food source, but it hasn't shown signs of doing that as far as she knows.
"Hopefully it'll move on and hibernate soon and hopefully not be back next year," she said.
"I know there's an option to haze it out of the area with a rubber bullet. I'm not sure how effective those methods are. And the next step would be relocation."
She said they're used to living like this with black bears; it's the fact it's a grizzly that gets everyone on edge, but it hasn't shown itself to be aggressive.
The Goat reached out to the Conservation Office but did not hear back by press time.
Berkenpas encourages people to carry bear spray when they're near areas the bear has been spotted or walking along forested trails. She is also concerned about the garbage management in our village.
"It's only going to become a bigger issue."
She says putting out your garbage can early, or not managing your garbage properly, leads to bears thinking of garbage cans as a food source – something that is already happening with black bears.
"It's just a recipe for making garbage bears in our town. It invites them in, especially in a year when they're hungry, when there hasn't been a good berry crop. So they're really foraging and this time of year they're especially hungry. The village is going to have to look at a solution or we're going to see more bear behaviour in town."