By Laura Keil
Swimming at Cranberry Lake at Cedarside Regional Park south of Valemount will be a little easier going forward, after a new floating dock was installed last month.
After a trip to Scotch Creek in the Shuswap, Ainslie Jackman, President of the Valemount Community Forest (VCF), presented the VCF board with the idea of a dock at Cranberry Lake to make the lake more accessible to the community.
"I saw all the private places including our cabins had those docks and I saw they built them right there in Scotch Creek," she said. "It looked like a simple, affordable and fun dock. It's the texture of it I really liked. On a hot day it's not hot."
It cost $25,000 delivered and the cost was donated by local logging and road building contractors. The design is eco-friendly in several ways including the fact that waterfowl can pass underneath the dock.
"I just wanted to make the experience of swimming at cranberry lake a little more fun and make it easier to get into the water without going through the leeches," Jackman said.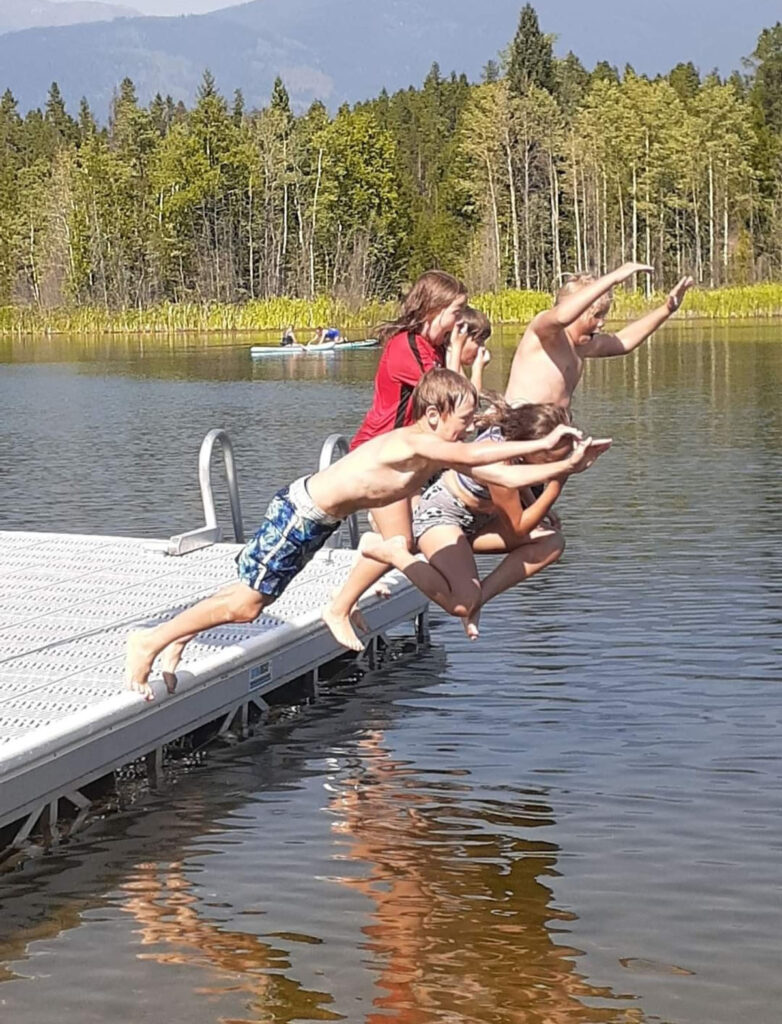 She says the next step is how to improve the beach.
"It's so small but it's our lake, it's the only thing we've got so close to town."
With the cooperation of the Regional District of Fraser-Fort George, the Community Forest ordered a dock from Triton Docks and the dock was installed on August 9th. It was immediately put to use by area families who took advantage of the remaining hot days of summer.
The local contractors who donated include AAA Logging Ltd, Alpine Country Rentals, Cedar Valley Holdings Ltd, Cliff Jackman Contracting Ltd, Cuddeback Holdings Ltd, Jackpine Construction Ltd, Spaz Logging Ltd and Wayne Reiter.
Jackman says the dock may be removed during the off-season to prevent unnecessary wear-and-tear or may be left in place, depending on recommendations.
Other improvements at Cranberry Lake this summer include new picnic tables and signage and the start of a path around the whole lake.
The tables, signage and new trail are part of ongoing parks maintenance work in the region, says Renee McCloskey, External Relations Manager for the Regional District of Fraser-Fort George.
"As for the trail clearing we are working to have a trail put in around the whole lake, but at this time there is no estimated completion date."