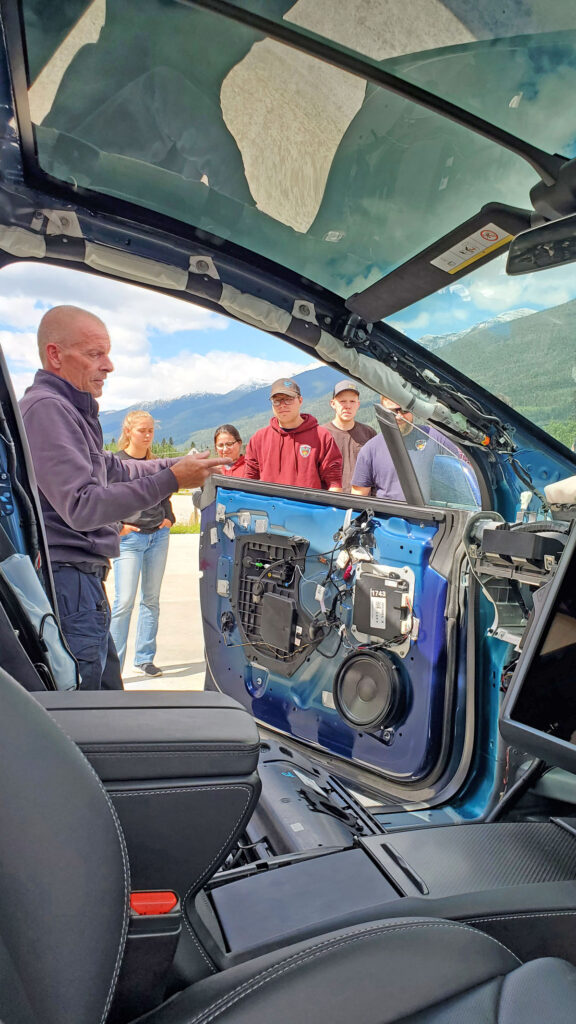 By Andrea Arnold
On Tues. June 20th, a group of 25 first responders from McBride and Valemount were given a chance to learn how to efficiently aid a person trapped in an electric vehicle.
Kevin Patterson from the Banff, AB fire department presented information that he has gathered through his own training. Patterson has been a first responder for over 25 years. Recently he has taken courses to familiarize himself with electric vehicles, has worked directly with the engineers behind many electric vehicle manufacturers and has personally attended third party test facilities where he saw how different impact angles affect an EV differently than a traditional automobile.
"It is important that first and second responders are educated in new technology," said Patterson. "I hope to dismiss myths by providing accurate and up to date information, so people do not have to rely on YouTube information. In the presentation I cover all current styles and makes."
Seven members of the Valemount Volunteer Fire Department joined 18 responders from McBride for a morning of in-class learning before heading outside to see first hand what a Tesla Model X P100D looks like, right down to the bones, and learn what tools are most effective and what areas to focus on during a rescue.
McBride District Volunteer Fire Department Chief Dave Hruby was thrilled to be able to bring Patterson in.
"It was superb training," he said. "There are so many EV's passing through the valley, and that number will only increase. It is important that we are ahead of the eightball in learning rescue techniques, not learning as we go."
McBride Deputy Chief Courtney Lipke agreed with Hruby.
"It is the progression of industry," he said. "We have to keep up with the times. We need to approach new vehicles differently than old ones."
One point that Patterson made was that EVs are built differently than fuel powered vehicles. They have different stress points and if crews use the tools they have been using in recent years, they may come up against a battle of metals. He said that he has found through personal experience that sometimes a simple Sawsall might be the best tool for the job. Patterson also told the attendees that in case of emergency, first responders can contact EV manufacturers directly from the scene of an accident if they have questions regarding extrication methods or safety.
All three of the senior ranked members attending found that information interesting.
Lipke said they would have to be open minded to using different tools, and not only relying on their standard equipment.
"The new cars have some similarities to what we are used to seeing, but we learned today, we are going to have to use different methods, and in some cases return to older methods in order to be effective," said Rick Lalonde, Chief of the Valemount Fire Department.