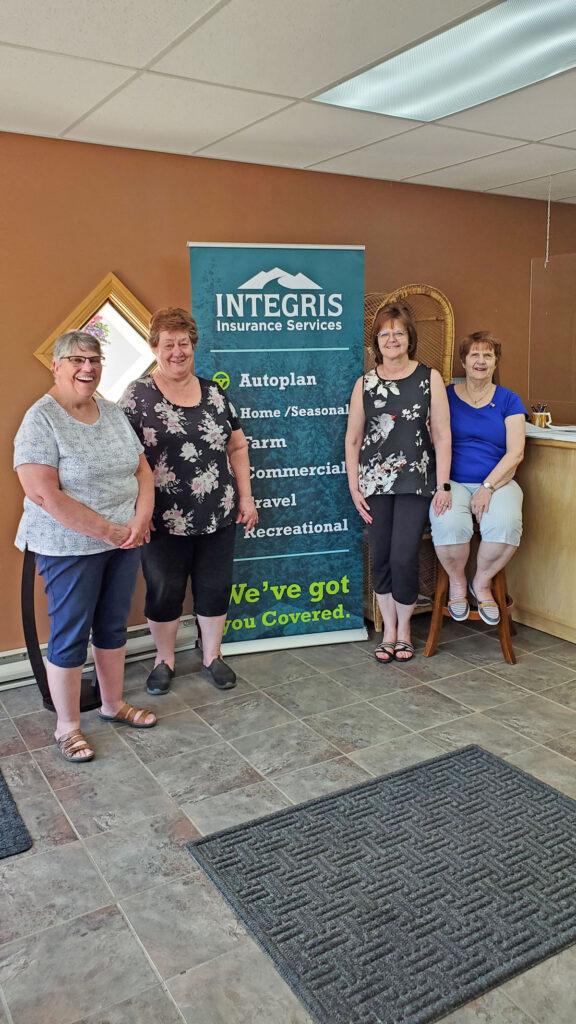 By Andrea Arnold
Clients of McBride based Advantage Insurance Ltd. will hardly feel the initial transition to the new ownership of Integris Insurance Services Ltd. says owner Rosemary Hruby.
"The only change will be in stationary, wall colour and signage," she said. "Oh, and how we answer the phone."
Hruby and her team have been serving the Robson Valley and beyond under the Advantage masthead since 1995. She is looking to the future, one that involves retirement, and this step will make that future goal easier.
On Monday June 5th, Integris announced that they had purchased the independently-owned brokerage and that all current staff had agreed to stay on.
Hruby is excited to see what the transition will mean for her.
"I will get more behind the scenes support," she said. "Less of the administrative business aspect and more helping people. I've been so busy, I don't feel like I've been able to focus on people as much as I'd like."
Hruby has been carefully shopping for someone to take the reins for quite a while. She wanted to find the right person or group that was a good fit, that would work well with the business she has developed.
"Integris is a very community-minded group," she said.
"We are founded on the cooperative principles, and supporting community and the local economy is something Integris has a 75-year history of doing and doing well. We are so excited to welcome McBride to our Integris service region," says Integris CEO, Alison Hoskins in a press release.
McBride is their sixth office in north central BC. They promise that the location hours and personalized insurance solutions that clients are used to will continue.
"We are committed to providing exceptional customer service and ensuring that you have the coverage you need to protect what matters most to you" said Kevin Gull, Senior Manager, Integris Insurance Services.
Gull expects that the transition to their full services will take time as Integris builds a partnership with the community of McBride, similar to the relationships they have built through locations in communities like Clinton, Vanderhoof and Fraser Lake.
They hope to expand services at some point in the future, eventually offering full service credit union offerings, banking, borrowing and investing with Integris Credit Union.
"We want to develop a plan to provide financial services and banking," he said. "We want to move slowly, with a community minded approach."
Gull says that growth into other communities is a part of their strategic plan, and that reaching into the McBride community was a good fit.
As the transition progresses, and they look to add more services to what the office offers, they will be looking to increase staffing. Part of the transition includes client information. Once the data system has been switched into the Integris system, McBride clients will be able to visit any of the Integris offices and have their personalized information available for transactions.
Gull says they have plans to host a BBQ in the coming months to introduce the whole team and to help them get to know the community.