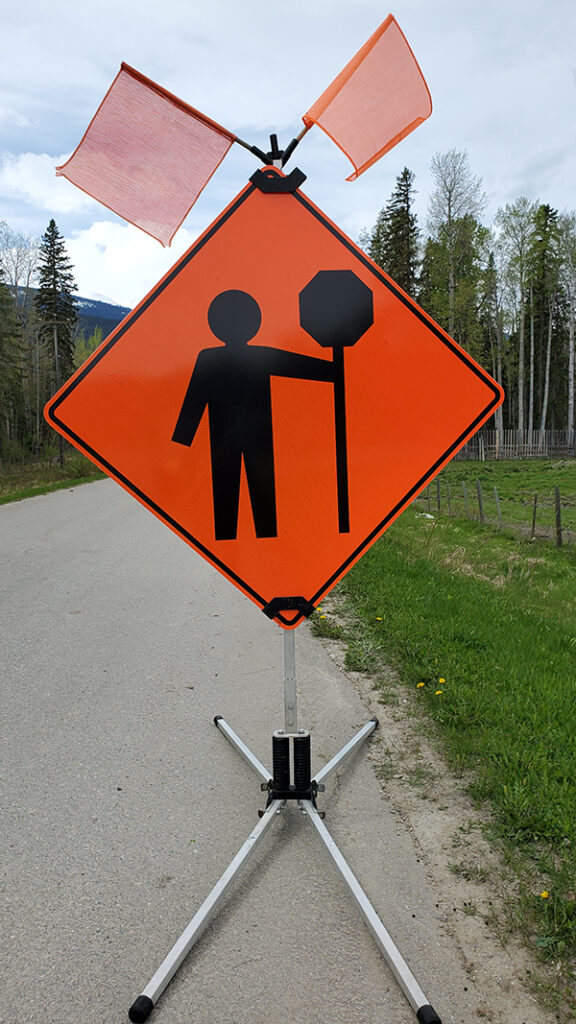 By Andrea Arnold
The 12th annual BC Cone Zone campaign launched last week with a call to everyone to do their part to prevent injuries and deaths of roadside workers. This is a year-round problem, but as spring and summer brings more construction and road-related activities, its importance increases.
The campaign's goal is to remind drivers to slow down when approaching areas where people are performing roadside activities such as construction, flagging, emergency response services, or any vehicle parked on the side of the road.
WorkSafeBC statistics show two roadside workers in the province were killed last year, and 31 people missed work due to injury caused by being hit by a vehicle. The statistics say that in the last 10 years, 12 roadside workers have lost their lives, and 221 have missed work,
"That's 233 people — mothers, fathers, friends, work colleagues, and neighbours," says Trace Acres, Road Safety at Work program director and spokesperson for the Cone Zone campaign. "Every roadside worker in the Robson Valley deserves to make it home to their family at the end of their shift without injury."
The biggest risk these workers face is from vehicles driving through their work zones either at unsafe speeds or by distracted drivers.
A release sent out by the campaign reminds drivers to slow down, pay attention and follow instructions from traffic control persons, temporary road signs and traffic control devices. And leave your phone alone, says Acres.
"A distraction of even a few seconds can have life-changing consequences."
McBride resident Leah Peterson has been serving the Robson Valley through traffic control for seven years. She has seen and experienced many instances of people not following signage and traffic notices. Their crew covers from the Bowron Forest Service road to the Alberta border and Wire Cache.
"Speeding is the most common offense I see," said Peterson.
She says when someone runs the zone, they document the license plate number and report it to the RCMP.
She says that she has seen an increase in violations over the past few years, especially along Highway 16 to Tete Jaune and Highway 5.
"These are the most dangerous areas," she said. "It's where we see the most number of speeders and vehicles running the zone. Highway 16 to Prince George has less volume, but still has issues."
Peterson has not only witnessed many drivers not slowing to posted speeds, but she also had a close encounter with a collision.
"We were setting up for a recovery from a previous incident when a semi collided with a pick-up within the speed restriction area," she said.
Peterson was only a few metres from the point of impact and was hit with debris as it scattered across the road.
According to Peterson, unmanned construction signs with speed reductions increase the danger to those working along roadways.
"Traffic becomes sign blind so that when there are people present, drivers are so used to ignoring the signs, flaggers and other workers are then placed at the greatest risk."
Through her experiences, Peterson has observed that in general, local residents and professional drivers appear to be the better drivers and most respectful to cone zones.
The release reminded drivers to observe the regular posted speed limit on the roadway. If there are vehicles with red, blue, or amber flashing lights stopped at the roadside, the province's "Slow Down, Move Over" law applies. It requires drivers to slow to 70 km/h if the posted speed limit is greater than 80 km/h. If the posted speed is less than 80 km/h, drivers need to slow to 40 km/h.
"Until the number of fatalities and injuries is zero, we will continue to take action to protect roadside workers," says Acres. "We ask all drivers, roadside employers and workers to do the same."