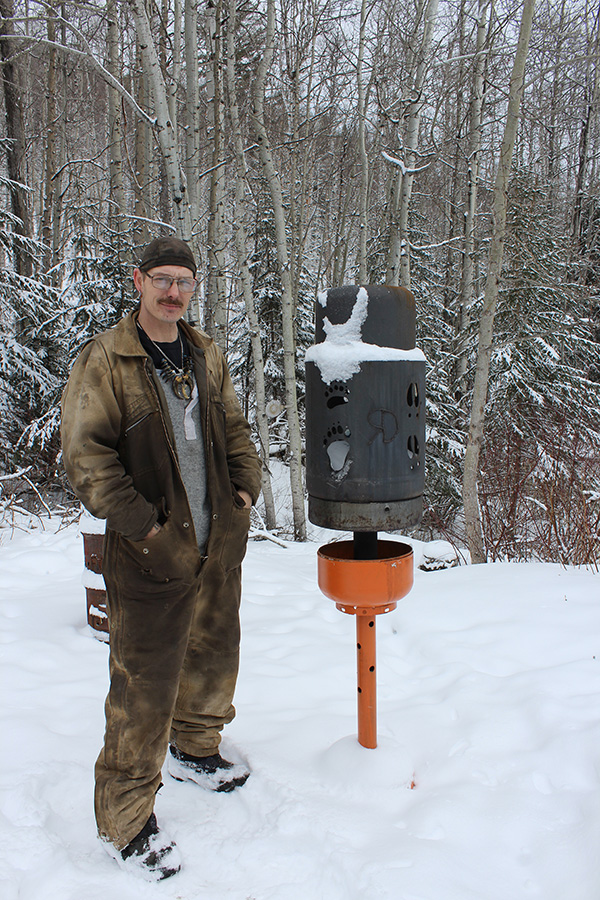 By Sandra James
From an early age, long time McBride resident Cougar, was drawn to the fire and forge in his search for a good knife. In this case the old saying "if you want something done, do it yourself" applies. Not being able to find a knife he wanted, Cougar decided to start making them himself.
He found a mentor early on in his exploration of knife making to help him further his skills. Since then he has honed and polished his skills through making about 400 knives of various types and sizes.
About seven years ago, two years prior to his return to the valley, Cougar began welding. He has found welding and forging a great way to relieve stress and release anger or aggression. Cougar built the forge himself with a hose, regulator, and fire bricks he bought off Amazon and the rest was reclaimed metal.
The forging process begins with the choice of knife pattern or design and the appropriate steel for the project. Some of the steel Cougar uses are leaf springs and railroad ties. People bring him metal as he is all about recycling and repurposing. Once the steel is chosen it needs to be smelted and drawn into a form.
He starts the smelting process by heating the modern propane-fueled forge to 1800 degrees to return the metal to a molten form.
Guided by Cougar's imagination and skilled hands he then draws it into its starting shape. The journey continues as he refines the appearance of the knife.
After this stage it is ready to meet the grinder for shaping that can't be done with a hammer to remove excess materials. The blade is heat-treated and tempered. Then it is time to affix the handle and sharpen the knife.
Material options for the handle have included antler (mostly elk, not so much deer), rope, and numerous wood floor samples somebody donated.
One of the handles on a finished knife is adorned with some copper and small rivets to resemble flowers. This knife he made for his parents and his mother says it cuts through turnips like butter.
During his time working in the shop, safety is paramount. Having proper personal protective equipment such as an old school helmet and visor which Cougar prefers over the newer auto darkening ones, coveralls, a set of good heavy duty gloves, and a fire extinguisher are just as important as the metal working tools. As an added precaution, before any welding is done in the shop Cougar yells out "welding" in case anyone is around.
On the wall of the shop hangs a framed knife that is broken in half. Cougar recalls that it was the result of his first big mishap so he decided to hang it on the wall as a reminder. These types of accidents can happen due to underheating the steel and hammering out the flaws which then can cause a hairline fracture in the material.
The style of forging Cougar uses and prefers is called "Brute de forge" which translates from French roughly to "rough from the forge." This means that instead of the finished objects being shiny, they still have hammer marks on them and the forging is still visible.
There are many uses for all these different knives from cutting vegetables, skinning, to cutting wood and even a special kindling knife.
One such knife is a half-rounded knife called an ulu knife. This style has been used by the Inuit women for domestic uses such as food prep and separating animal skins to ready for clothing. This kind of knife has been around for about 4500 years and Inuit women are still using it to this day. Some chefs also use it and know it as a rocking knife.
He not only forges knives. Creativity knows no boundaries when it comes to Cougar. There are many other types of metal works outside his shop as well as in his parents' house. Outside is a 30lb propane tank he turned into a heater. Carved in the sides are animal paw prints of the wolf, rabbit, deer, bear, grouse. His mother needed a simple coat hook and Cougar surprised her with a Welcome sign with multiple hooks made entirely out of rebar. She proudly shows it off.
Other items he has made are signs, jewellery, a smoker, BBQ, rocket stove, and bird feeder.
In the future Cougar plans to set up his camera and live stream each day when starts creating at 9:00am.
You can see his products for sale and follow him on Facebook at Red-Dog Forge Cougar.