By Laura Keil
---
Jeanne Dennis has been writing support letters to anonymous soldiers abroad for 35 years. This year she got a letter back.
The return address simply said "A Soldier," and she laughs recalling herself looking at it and telling her husband she didn't know anyone named "Soldier."
The letter came from a couple stationed in Turkey, whose children were back in Canada going to school and were unable to share the holidays with them due to COVID-19. The couple thanked Dennis for her letter and told her how much it meant to them.
"Thank you so much for your Christmas card, it meant so much to us!" the letter reads, going on to talk about their life in Turkey and the hardships this year with COVID. "Thank you again for thinking of us and your kind gesture, it touches all of our hearts."
Dennis said when she realized who the letter was from she "teared right up." This is the first letter back she has received.
She sent about 30 cards this year—more than she ever has in a single year.
"I knew how I felt with COVID restrictions and, and not being able to reach out to my people. And I just thought, you know, I know these guys are going to be in the same boat."
Dennis started writing letters to anonymous soldiers when her brother joined the navy in the 80s. She would include extra letters when she wrote to him.
"Some of the guys didn't get letters because their families didn't write, so I'd throw in a whole bunch of letters with my brother's letter and he'd come to the post office and just hand them out. And all of a sudden somebody would have a weird letter in their hand and it would kind of make their day."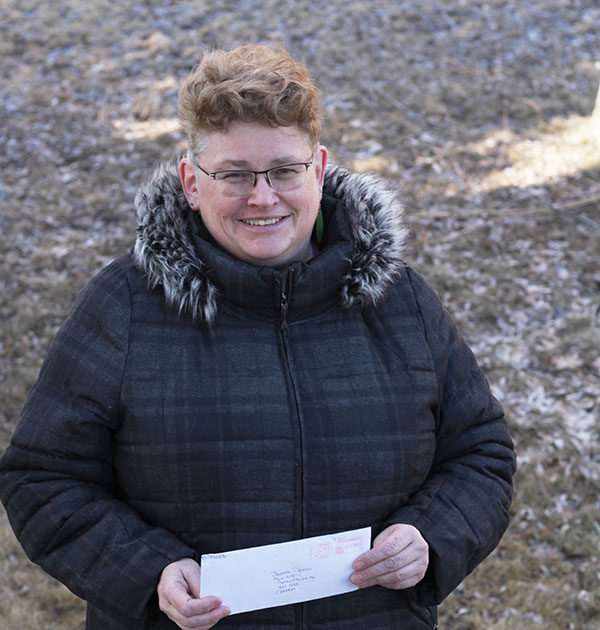 "Some of these guys don't hear from their families and their loved ones for months and months and months at a time. And just getting a piece of paper saying somebody is thinking about you and thanking you is huge,"
Dennis says she hopes more people are inspired to write service members.
"I know it's goofy and they don't know you from a hole in the ground. Still, sometimes it's nice to be able to reach out and have that connection to somebody who's not on the ship or in the camp or whatever. And to think 'Yeah, okay, I'm doing good work.'"
The letter back confirms for her that what she's been doing is worthwhile.
"I just figured, it only costs me a card and a stamp. If I can make somebody's day a little bit better, then that's a simple task. And I think more people need to do some of the simple things, not looking at the big, huge grand scheme of things. Just look at the easy things that you can do that don't cost you a whole pile. And you know, that letter back, it really reinforced the fact."
You can mail a letter or postcard to a member of the Canadian Armed Forces anytime and you can also specify a specific mission or region you'd like the card sent to. Use the following address:
Any Canadian Armed Forces Member
PO Box 5004 Stn Forces
Belleville, ON
K8N 5W6