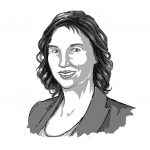 By Laura Keil, Publisher
---
I was excited to learn the Village of Valemount was applying for grants to install a geothermal heating system for public buildings.
If successful, this could be revolutionary for our town. It would cut heating costs in public buildings by 50%. And if residences and businesses can hook into a District Heating System, it could provide a cheap alternative to dirty woodstoves. The pollution we experience in the winter from home heating is truly extraordinary for a developed country. But without access to natural gas, wood stoves have been the traditional go-to (though they are no longer the only option. I applaud the Village's wood stove exchange program for giving a bigger rebate for non-combustion options like heat pumps).
Even if residences don't hook into the geothermal system immediately, it's still a great project. It leverages provincial and federal funds to decrease costs for locals in the long-term. Like many communities, we have infrastructure inflation. Over time, services expand, standards go up and the cost goes up with it. The Village owns several buildings – the Community Services Building and Community Hall on Gorse Street being two. These are older buildings not built to modern energy efficient standards. The result is a huge bill for the village ie) local taxpayers. The fact the Village is trying to lower this burden is a wonderful sign. It shows they are thinking about the communal bottom line. Something that especially matters in a very small town.
Innovation often comes from the existing residents. We need to ensure we aren't saddling people with enormous taxation so they can leverage their position towards building this place.
I'm happy to see the Village leveraging their position.