By Fran Yanor / Legislative Reporter
---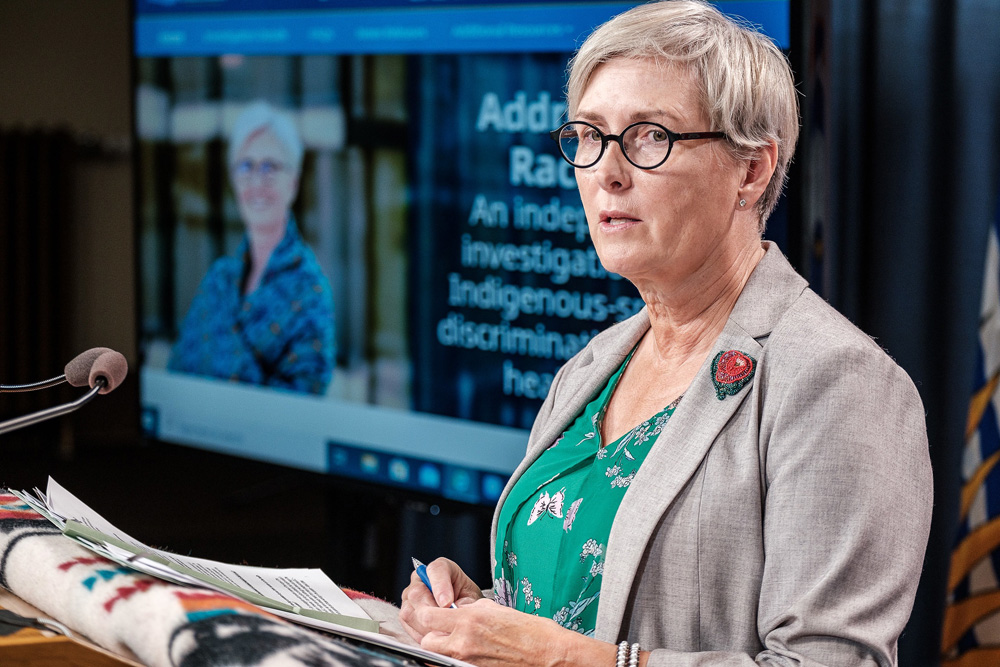 Flanked by First Nations and Metis Nation leadership, the special investigator appointed by the Province to examine racism in the health care system promised a 'truth-telling' process and encouraged Indigenous people and health care professionals to confidentially share their experiences with her team.
"I want to assure all Indigenous people that you are safe to share the story with myself, my team," said Mary Ellen Turpel-Lafond during a press conference from Victoria. "It will be treated with utmost confidence and respect."
Turpel-Lafond also encouraged anyone working in the healthcare system who may have been a bystander to, or participated in, racist activities, to share that information.
"You will face no recrimination in your workplace for doing that," she said. "You have my sincere pledge."
Last month, allegations surfaced about health care staff at a B.C. emergency room playing a game to guess the blood alcohol level of mostly Indigenous patients. Health Minister Adrian Dix appointed Turpel-Lafond to investigate. A former Saskatchewan judge and B.C.'s former independent Representative for Children and Youth, Turpel-Lafond is an Indigenous, Harvard-educated UBC law professor.
"Our investigation will get to the bottom of those troubling allegations," said Turpel-Lafond. "However, I also want to caution that the investigation is not about blaming and shaming."
Indigenous people are well-acquainted with blame and shame, she said.
"That's not a healing process. That's not a truth-telling process."
However, if violations of the Criminal Code are uncovered, or professional health standards have been breached, they will be reported to the appropriate governing bodies, Turpel-Lafond said.
"This investigation is not trying to determine whether racism exists in the B.C. healthcare system," she said. "It does exist. Just as it does in every aspect of Canadian society."
Instead, the purpose of the process is to gauge the range and extent of that racism, Turpel-Lafond said. "Both individual and systemic, and how it affects the quality of health care for Indigenous people in this province."
"While it may be challenging for us to address racism, it is necessary," said Dix. "And it will make our healthcare system, for everyone involved, better and safer if these actions are taken."
The investigation will make informed recommendations to address racism in the health care system and improve the experiences of First Nations, Métis and Inuit people who are accessing that system, Turpel-Lafond said.
A final report will be completed before the end of 2020, according to the special investigator's website. Dix has pledged to make all reports public and to implement the recommendations.
Ultimately, the investigation is intended to build confidence for Indigenous people in the B.C. health care system, Turpel-Lafond said.
"To ensure that they will feel safe and that they are treated appropriately, respectfully, with dignity, equality, and fundamental respect for their human rights."
To contact the independent investigator's team online, go to: https://engage.gov.bc.ca/addressingracism or call: 1-800-600-3078
Fran Yanor / Local Journalism Initiative / The Rocky Mountain Goat / [email protected]