Programs are being set up to help a business sector stunned by the COVID-19 pandemic, but throughout the valley there are some very obvious gaps in the program. The Goat's Andru McCracken spoke to some people in the accommodation sector who are being hit hard by the pandemic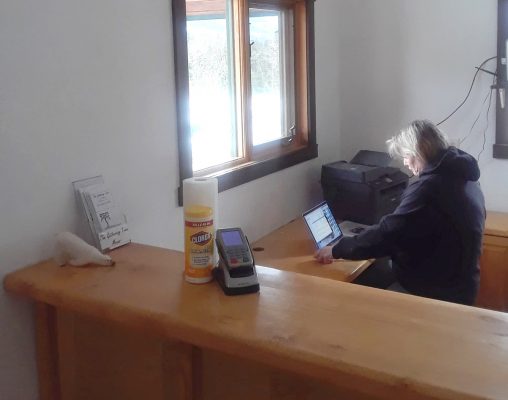 Donna Hamilton runs Twin Peaks Resort with her partner Sandy. She laughs when asked if her business is able to take advantage of any programs for businesses so far. As of presstime, she's not eligible for any programs despite a big decline in business.
One of the metrics that determine whether they are eligible is payroll.
"We don't have any payroll. We have always taken another job and put all our money back into our business," said Hamilton.
Twin Peaks continues to hustle, providing cabin rentals for CN Contractors at a discounted rate even though business is way down, and it excludes them from applying to some programs.
"CN contractors will do for the month, but May and June are completely shot," she said. "For July, I am sure they are just waiting until they can cancel without penalty."
She expects business to be down by about 90% this summer.
But whether she has guests or not, she has bills to pay.
"My hydro bill is still $900 a month, I don't fall into a category to get a rebate. Our taxes still work out to be $1000 a month, insurance is $1000 a month – these are standard bills we don't see any relief from," she said.
She said they paid off the property two years ago and so is in a drastically better position than a lot of people.
"But Hydro and taxes – those are the ones that are going to get all of us."
Hamilton said this is the case for most of the smaller resorts, hotels and B&Bs. Operators with mortgages will be in worse shape.
COVID-19 comes on the heels of the worst winter she's experienced. She said the economy in Alberta is reducing the number of snowmobilers staying with her.
Looking forward doesn't offer much solace.
"I think it is going to be a very strange summer for everybody," she said.
While the last two summers have been good, it's largely due to European travelers, and she believes there will be a lot less travel over the next three years.
"What is the piece to get us through this? It is hard to say what will get us through." she said.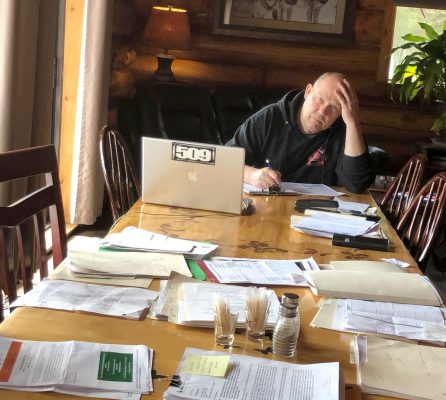 Terry Power runs Summit River Lodge and he had to shut the business down. He is doubtful whether any insurance will cover his income, because the government didn't actually order him to shut down.
"We did it because we don't want to promote travellers to Valemount," said Power.
Power has been able to defer his mortgage, which helps, but he is keenly aware that the interest on the payments he misses will be rolled back into the total.
"It is a solution I had to take," he said. "We don't know how long this is going to last."
He has a raft of other operating expenses that he will have to find a way to pay.
Power hasn't always paid himself much of a wage, preferring to invest the money back into the company. Recently he has found that this is bad news at the bank.
Despite having more than a million in assets, he can't go to the bank and borrow a thousand dollars. Banks demand to see monthly wages. When he gets stuck for cash, he ends up paying credit card rates to borrow.
He is able to defer payment on one of his two power bills. That will help a little, but not enough.
The looming question is the future.
"When am I going to have a customer again?" he said.
His payroll wasn't enough to trigger the 75% wage subsidy either.
It's been a tough winter for the lodge. He dropped his rate by 30% to keep his winter clientele.
"Sledders have lost their overtime and they are looking for a deal, even though we are the greatest thing since sliced bread," he said.
Summer is going to be a challenge too.
"85% of our business in the summer is Europeans. That means we don't have business this summer," he said.
He isn't quite sure how the government can help, though access to low interest or no interest loans could help tide him over to September.
He said that the bank is willing to loan him money, but at rates that hurt.
"My other option is a $40,000 loan. With 29 per cent they tell me 'you can have it tomorrow.' That's what we are resorting to," he said.
But even with a loan he isn't sure what happens after.
"Owners will be rolling up our sleeves further," he said.
Georgina Kirby runs Bell Mountain Motel and she is remaining open to essential service workers, namely CN employees and a few nurses.
"It's a massive downturn from this time last year," she said. "There is a small amount of through traffic with emergencies of their own. There is not a huge number and no snowmobilers."
She decided to stay open because she believes her small motel is one of the safest forms of accommodation.
Kirby said that guests park in front of their room, have their own door and don't have to pass each other in passageways.
In her particular case, the shutdown has been a welcome respite. She is recovering from major surgery and having fewer guests allows her time to recuperate.
Kirby said she doesn't qualify for government programs yet, because she hasn't completed her tax return for last year due to her poor health.
"In terms of income, the only thing I can say, there are options to pause some payments. I have not yet taken that but I may have to," she said.
Kirby bought the Bell Mountain Hotel last year. She has a vision of bringing visitors from England to stay and experience McBride and area.
The Canadian Federation of Independent Business is pressuring the federal government to expand the Canadian Emergency Business Account (CEBA for short).
"There are some crucial changes that are needed to CEBA to ensure businesses who need this funding avenue can access it, such as removing (or at the very least lowering) the payroll requirement," said Muriel Protzer, Senior Policy Analyst for BC and the North for the organization. "It is also vitally important that the $10,000 forgivable portion of the loan be a simple grant that is available quickly with a minimum of qualification criteria and administrative hassle."
They are also advocating for provinces to help with fixed costs.
"From our survey data we found that 30 per cent of businesses in Canada do not have the cash flow to cover April bills, which is very concerning. To help business owners with rent, CFIB is recommending provincial hardship grants of $5,000 a month to those forced to fully or partially close by provincial governments, and those most affected by revenue losses," she said.
With support from the Facebook Journalism Project