By Andru McCracken
---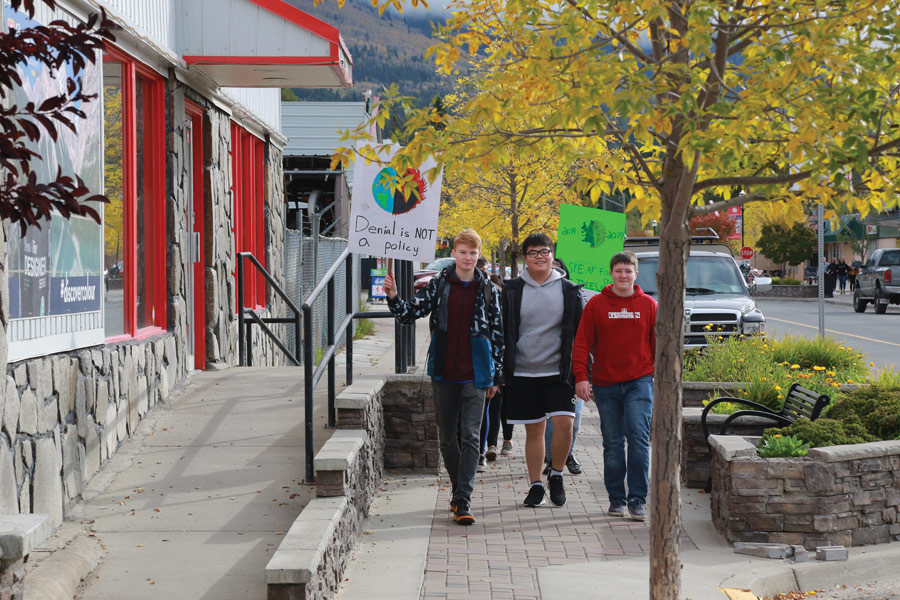 Students left school and took to the streets on Wednesday, September 25 as part of a global student movement calling on world leaders to take action on climate change. The event was inspired by 16-year-old Swedish climate activist Greta Thunberg. An estimated 7.6 million people participate in the strike worldwide, becoming one of the largest protests held since the 2003 anti-Iraq war protests.
Student Ben Dempsey organized the climate strike in Valemount.
"We want to bring awareness to the fact that governments don't really seem to be doing anything to help prevent global warming and climate change," said Dempsey, "And also just show Valemount's support towards the movement that's going on with millions of students around the world."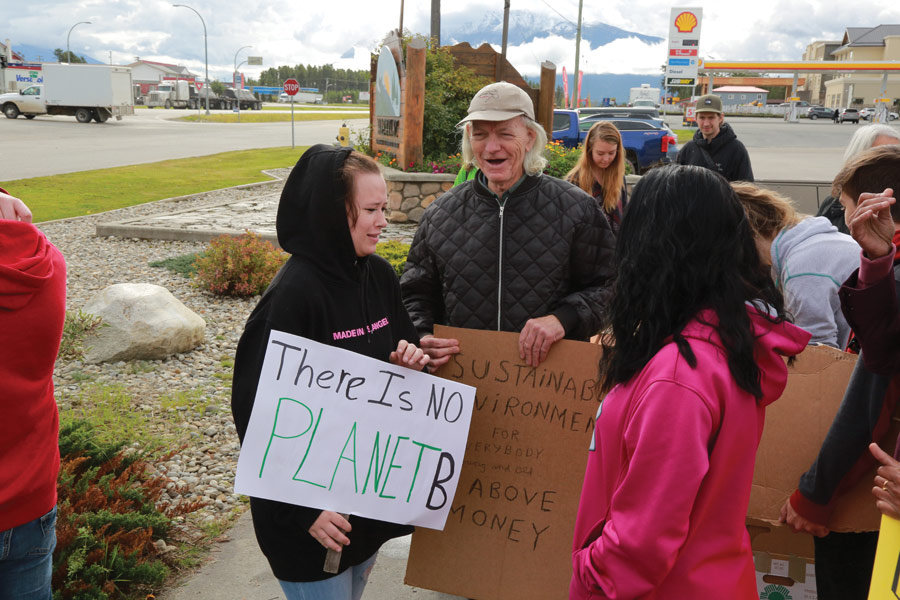 Dempsey hopes that world leaders will see the youth in the country and the world want change.
"Hopefully they change their policies accordingly, especially because everyone here is going to be the next generation of voters and we're the ones who are going to be voting in the next elections."
Rashmi Narayan was one of a number of adults to show up in solidarity, but she put her own twist on the event challenging people to take small measures to stop climate change.
"What can I do to stop climate change? I'm saying buy less, share more, especially tools, and buy local if you must," said Narayan.
"Everyone is talking big ideas and climate change seems like a big thing, what are the small things we can do?"
When asked whether there are small steps people can take to combat climate change, Dempsey said the climate strike was about the big picture.
"The biggest thing that I can think of right now is joining a movement. You can change on an individual level, walking more, driving less, saving energy in your house, but the biggest change needs to happen on the government level. That's the issue of today."
Dempsey believes the backlash against carbon taxes and taxes used to save the climate is wrong headed.
"It's important to realize that all of these taxes, in the short term, you'll pay a couple dollars extra, but in the long term, it's saving the world so much money in the amount you have to spend in repairing all the damages from all the increases in flooding, hurricanes, tsunamis. In the long run it is going to be saving a lot of money," he said.
High school student Saeda Rose said she came to the protest because it matters.
"We only have one Earth, we have to take care of it," she said.
Rose said she wants the concerns of the planet and the future on the table.
"I want real change, a plan," she said, but she conceded that getting climate change into the spotlight is a good first start. "Even having people talking about it more openly would be a change."
Seth MacDonald called attention to a convoy of logging trucks that drove to Vancouver the very same day.
"A bunch of people are driving the most fuel guzzling trucks that exist in this province from all over BC to [Vancouver] to draw attention to the shutdown of our big mills, but nobody's looking at the reason that this is happening: because it is all gone," he said. MacDonald said overharvesting of forests and the impact of climate change, forest fires and insect epidemics for example, is the real reason for mill shutdowns.
"That kind of protest doesn't work. They should be swelling our ranks because we're also looking at job security for the future," he said.
Protesting the protest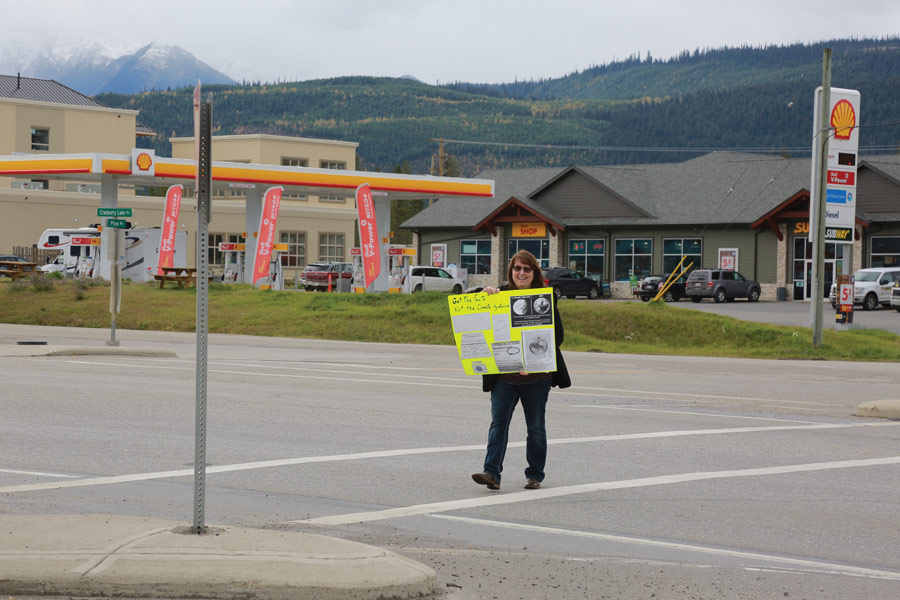 As the the climate strikers got into motion, Michelle Burstrom joined the fray, but she had a completely different message.
"Enjoy your communism," said Burstrom to protestors as they crossed Highway 5.
Burstrom had created two elaborate posters that incorporated graphics and articles claiming to debunk climate change as a global conspiracy to implement a new world order.
"There is absolutely a change in the climate. Of course there is, but it's not man-made," said Burstrom.
Burstrom said the United Nations is a communist regime.
"The way they implement communism in modern day society, is they implement carbon taxes, which eradicates the middle class. And this is what they've just done in Venezuela. You end up with a world that people are demoralized, once demoralized they'll accept any kind of information."
Burstrom said her key message was not to take information at face value.