By Goat Staff
---
Mayor Owen Torgerson, councillors Hollie Blanchette, Sheri Gee, Donnie MacLean and Pete Pearson met on July 23rd, 2019 for their regular council meeting. Staff Chief Administrative Officer Wayne Robinson, Deputy Corporate Officer Carleena Shepherd and Planner Megan Vicente were present.
Public Comments
Rashmi Narayan spoke in support of the zoning amendments for housing and talked about the work the Housing Committee has done to provide the recommendations behind the changes. Laura Keil spoke in support of the zoning amendments for housing, the woodstove exchange and the new affordable housing development and talked about the impact on local businesses who can't find or keep employees due to housing scarcity.
Adoption of minutes
Council adopted the minutes from the July 9th Regular Meeting of Council, the July 15th Special Meeting of Council and the July 9th Public Hearing.
Delegation – Valemount Affordable Rentals Society
Korie Marshall gave a report on the progress of the Valemount Affordable Rentals Society. She said the existing Juniper Square complex (former Ramakada motel) is currently full and when there are vacancies they are filled right away. The Society is currently working on their next project – a 13-unit apartment complex on an adjacent plot of land to Juniper Square. Marshall said they have received commitments of funding from BC Housing, Columbia Basin Trust, and CMHC. She said the Society will be approaching council to ask for permissive tax exemptions and to waive development cost charges for apartment.
Aid for forestry-dependent communities
Council supported a motion for the mayor to add his signature to a letter from forestry-dependent communities asking for assistance from the federal government.
Interior Forest Sector Renewal Meeting
Council supported sending Mayor Torgerson and Counc. MacLean & Pearson to the Province's Interior Forest Sector Renewal meeting in McBride on August 20th.
Speed limit signs on 5th ave
Staff brought a report back on what the Village might do to discourage speeding on 5th ave between the frontage road and downtown. The issue was raised by a member of the public. The staff report said adding signage or painting the road was unlikely to change drivers' behaviour. The report recommended no action by the Village. Councillors discussed how 30km/h may be too slow for that stretch. Two years ago, the previous Council voted to reduce the speed from 40km/h.
Bike Repair Station
Valemount Co-Ed Hockey has folded and is donating its remaining funds towards a bike repair station (valued at approx. $2500US) to the Village for public use. Council passed a motion to donate staff time to installing it (approx. cost to install it is $250) at the corner of Dogwood and 5th ave at Centennial Park. The report notes that the station will promote cycling, allow for residents/visitors to perform minor bike repairs and it will need only a minor amount of maintenance by Village staff. Counc. Pearson said he is part of the Co-Ed group and they were currently seeking a new model as the one they originally wanted does not ship to Canada.
Signing Authorities
Council approved a motion to add CAO Wayne Robinson as a signing authority and to remove EDO Silvio Gislimberti.
Conceptual Site Plan for Affordable Housing
Council received for information a potential site plan for a new housing development consisting of several types of affordable housing like duplexes, apartments, and senior housing on land south of Valemount Secondary. The final report was submitted by Radloff & Associates Inc who were tasked at identifying a location for an affordable housing project. The consultant compared three potential sites owned by the Village. Existing infrastructure (water, sewer, and paved roads) played into the selection process. The report includes an affordable housing survey, the results of a design charrette, and a draft design for a long-term affordable housing development.
Childcare BC New Spaces Fund
Council approved a motion to act as the Public Sector Partner for Robson Valley Community Services' (RVCS) application to the Childcare BC New Spaces Fund. RVCS wants to build a childcare centre on Village-owned land next door to the Valemount Health Centre. The centre would provide new licensed childcare spaces. The land and facility would be owned by the Village. If approved, the Ministry of Children and Family Development (MCFD) will provide 100% funding (up to $1 million). RVCS proposed to be the project contact, develop the application and operate the daycare.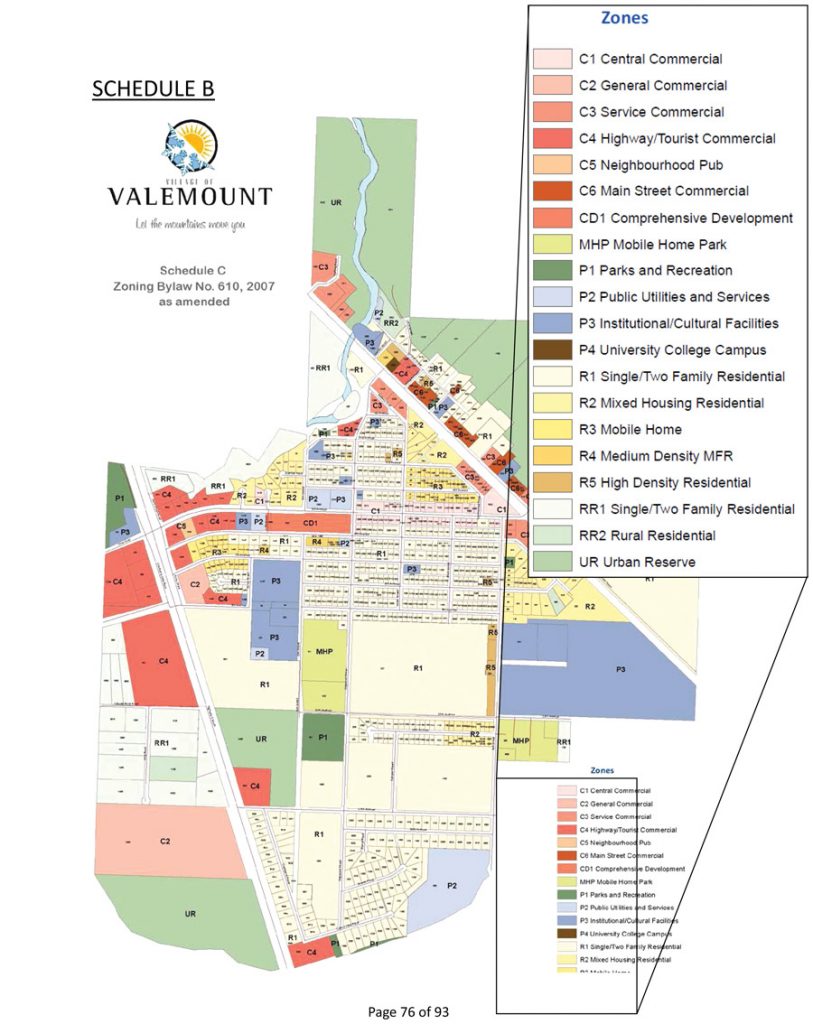 Proposed Zoning Amendments
Council approved a motion for staff to bring a zoning amendment bylaw forward for first and second readings, changes to allow new housing opportunities. These include: Permitting a maximum of four (4) residential dwelling units, including employee housing, as an accessory use in all commercial zones (Current Zoning Bylaw limits each commercial building to one dwelling unit). Adding duplexes as a permitted use to the R2, RR1 and RR2 zones (all zones where Single Family Dwellings are permitted, except R3). All other zones are already of a similar or higher density. (Current Zoning Bylaw says duplexes only permitted in R1 & R5 zones). Reducing minimum parcel area in the R1, R2 and R3 zones to 540 m2, 540 m2, and 360 m2 respectively (formerly 700m2, 700m2 and 560m2 respectively). Reducing the minimum floor area of Single Family Dwellings (SFDs) to 55 m2 (600 ft2 ) in all zones that permit SFDs (Current Zoning Bylaw allows a min. floor area of 88 m2 to 93 m2). Permitting secondary suites in the R3, R5 and MHP zones, within SFDs only. (Current Zoning Bylaw says Secondary suites were only permitted in R1, R2, RR1 & RR2 zones). Removing the percentage of total floor area a secondary suite may occupy in a SFD, to align Zoning Bylaw with proposed changes to the BC Building Code (BCBC) for secondary suites. (Current Zoning Bylaw & BC Building Code state that a secondary suite may not occupy more than 40% of the total floor area of the single family dwelling it is located within). Planner Megan Vincente said the 40% floor area in the BC Building Code may change soon. By removing it from local bylaws, the new BC Building Code will automatically apply to homes built in the Village. Her report noted that more review and research is needed prior to allowing additional detached dwellings in all residential zones and will be considered with next major Zoning Bylaw update. Her report said staff does not recommend permitting duplexes, fourplexes, row houses, and coach houses in the Mobile Home Park (MHP) zone. The report focussed on recommendations made by the Village Housing Committee in 2017.See current zoning map.
Woodstove Exchange Program
Council approved that staff apply to the Ministry of Environment's Woodstove Exchange Program. They also approved that staff apply to the Regional District's Grand-in-aid program and the Valemount Community Forest for additional funds to help lower-income people replace their old woodstoves for a newer woodstove, a pellet stove, an oil/gas/electric alternative or a heat pump. The staff report recommended a higher incentive to those looking at cleaner alternatives (ex. Pellet stove or heat pump) compared to towards a newer high-efficiency wood stove. The Village has budgeted $5000 for this year and is applying for additional funds. Staff hopes to replace 5 wood stoves with 5 electric/gas/pellet stoves or 10 wood stoves with 10 clean burning wood stoves. The program would also focus on education of proper wood burning.
Employee Recognition
Council approved an Employee Service Recognition Policy including amounts spent on gifts for long-time employees ($10 per year of service beginning at 10 years and every 5 years after that). The policy states that gifts will take the form of gift certificates to a local business of the employee's choosing.
Social Media Policy
Council approved a social media policy for staff who manage the Village's social media profiles.
Procurement Dispute Resolution
Council approved a policy that outlines the process to handle disputes that may arise during contracts.
There was no in-camera session.