by Laura Cooke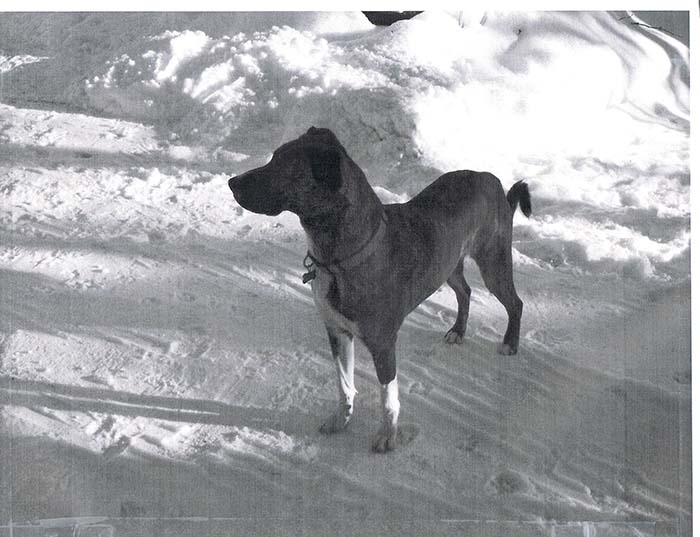 A Tete Jaune resident suffered an unfortunate loss last week. On Friday, November 23, Hermann Barthel and his furry companion were shopping at the Valemount IGA. As per usual, Barthel left his dog Moka in the vehicle with the window down to ensure she was able to get some fresh air. This is a routine for Barthel and Moka, as they are almost inseparable. To his surprise, when Barthel returned to his vehicle, his beloved Moka was gone.
On Monday, November 26, Moka's remains were located at one of the two train crossings in Valemount, after an extensive search. With the help of friends and other residents, Moka has been returned to her family and laid to rest. She was a reliable and therapeutic companion for Barthel.
"All our dogs came from the SPCA. They all got to a ripe old age." Barthel says. Moka helped keep his health in check. "We walked at least 4 km every day."
Mr. Barthel wants his unfortunate loss to create an awareness for local pet owners: introduce your pets to the oncoming trains while out for walks. A dog that is unfamiliar with the train, like Moka, may use instinct and chase the train causing the animal to become injured or killed. Barthel says it's vital to teach our animals survival and behavioral skills for living in a rural area, like Valemount & Tete Jaune. Also, making sure your pets are humanely secured in the vehicle, at home, etc, is important for the safety of your pets when traveling or leaving them at home alone.
Barthel and his wife would like to send out a thank you to any and all that helped him with his search in bringing Moka home. "To Ulla, Sam, & the Valemount SPCA. We can not thank you enough for all your help in search of Moka. Your help and being with us in our saddest hour is deeply appreciated. We won't ever forget it and we can never thank you enough. May God Bless You."
Like most pets, Moka was a part of the family and will be greatly missed by her owners.