By Andru McCracken
---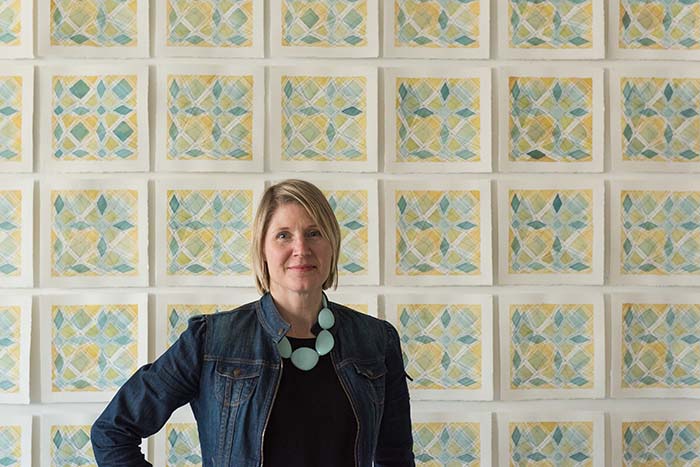 A Prince George based artist claims to have the key to mending the social fabric that has too often been torn and tattered by social media. Frances Gobbi, who creates art with geometric designs in watercolour, said an old fashioned work bee is the answer.
Gobbi says that when we share our politics and convictions on social media it often sows discord and creates disconnection, separating us from people we would otherwise associate with.
She gives a personal example.
"When our teachers were on strike in 2014, even close friends made really bold statements [about the strike], taking one side or the other. This issue kind of brought out all these opinions," she said. Gobbi herself is a teacher and she found that instead of creating connection, that sharing created discord.
"Before social media when we had those discussions it wasn't without some face to face interaction," she said.
Gobbi contends that her style of art, which is unique for its repetitive and simple forms, allows people to be together, whether or not they agree politically or in other ways.
"Think about how musicians jam together," she said.
"They are thinking about the music, not this stuff outside the room."
In Gobbi's workshop August 18th (12-4 pm at the Valemount Museum), she'll teach participants to explore patterns and shapes to create a work of art reminiscent of a patchwork quilt.
"I'll make a space where you can make something you are proud of. You'll do it in a way that you maybe didn't expect but will be proud of at the same time," she said.
Gobbi is interested in abstract geometry, math and naturally occuring patterns and that makes for some repetition.
"The repetitive nature of my art is an opportunity for reflection," she said. "It's almost like a [type of] Yoga. It creates a space where you can stop thinking and start reflecting."
"Please come out if you have never painted before. This is for everybody. This is a workshop to show people they have an inner artist inside them,' she said.
Gobbi said keen kids over the age of 10 are welcome, and made a special call to mountain bikers with an affection for colouring books.
To register contact the Valemount Museum at 566-4177. The cost is $10.
Gobbi's artwork will be on display in Valemount in an exhibition organized by the Two Rivers Gallery, called Hold Fast/Let Go: Reflections on Home & Family. The exhibition includes two other artists as well. Mo Hamilton's intimate block prints positions home as an experience that is deeply individual and constantly in flux. Catherine Ruddell's block printed and embroidered canvases feature repeating patterns of various plants inspired by her maternal grandmother's stories and her own upbringing in Fort St. John, BC. Her work highlights the role that place and family history can play in the forming of one's identity.
The exhibition will run from August 17th until September 18th at the Valemount Museum.