by Andru McCracken
---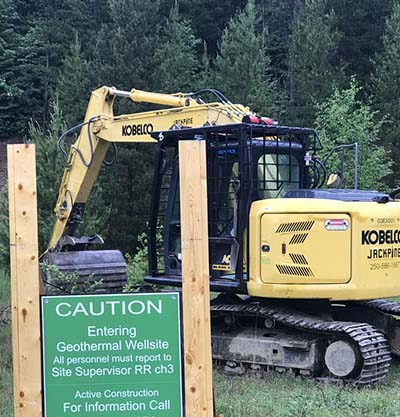 It's called 'spudding.' It's the process of beginning to drill a well in the oil and gas industry and Borealis GeoPower is doing it near the Kinbasket Reservoir – but it's not oil they're drilling for.
Borealis GeoPower, a Calgary-based energy company began drilling on Monday, June 11, and they aren't looking for oil. They are looking for heat radiating from the earth's core, finding its way up through the Rocky Mountain trench.
The four geothermal test wells, if successful, could give rise to the first geothermal power plant in the country, potentially supplying the valley with stable local power. The test well will show how the temperature increases with depth and, with luck, will confirm the exploration work already been done in the area over the last eight years.
This is the first exploratory drill hole in the area despite an interest in the area's geothermal resources dating back to the 1970s.
In a press release issued just before drilling commenced, Borealis GeoPower's CEO Alison Thompson thanked all three provincial political parties including NDP Minister of Energy Michelle Mungall who had a hand in approving the the drilling. Notably the project is being supported by national and provincial research organizations including the National Research Council and Alberta Innovates.
"Through this demonstration of renewable power, we have the opportunity to showcase clean, reliable energy generation," said the Honourable Jim Carr, Canada's Minister of Natural Resources. "Our government is proud to support Borealis to discover how this demonstration project may lead to further geothermal energy deployments that will help our country create a brighter future."
Maureen Kolla, Manager Clean Power and Heat for Alberta Innovates says the opportunities for geothermal power to create renewable electricity and other forms of low-carbon energy are exciting and projects like this are at the frontier of the new economy. "We are working with Borealis GeoPower to advance the design and engineering behind solutions that can help to develop distributed geothermal resources."
Alberta Innovates is a provincially-funded corporation focused on Alberta's research and technology development and aims to diversify the provincial economy, improve environmental performance and enhance Albertans' well-being.