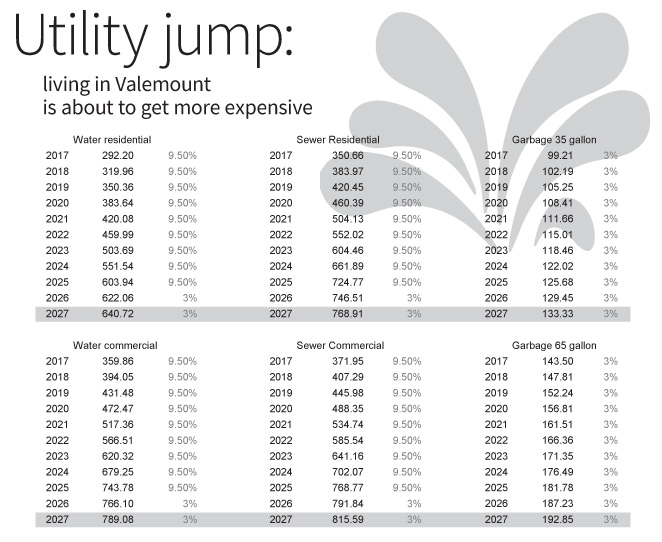 by LAURA KEIL
Valemount Council was scheduled to consider a significant utility fee increase at the regular Council meeting Oct. 24th.
The increase is part of a recommended 9-year plan that will more than double utility fees in order to save enough reserves to replace aging water and sewer infrastructure.
The Village's Director of Finance Lori McNee wrote in a report to Council that some of Valemount's water and sewer infrastructure is 40 years old. She notes that even if the Village applies for grants, the Village is still responsible for roughly 25-33% of the cost. For instance, a $1M sewage lift station requires a village contribution of roughly $330,000. The report says eight will need replacement in the next 20 years.
McNee says if the Village were to take out a loan instead, taxpayers would then be on the hook for interest payments. She gives an example of a $766,000 loan, where the interest would be $514,000.
When asked about alternatives, McNee said alternative methods are being considered, but the funds still need to come from the taxpayer in one form or another.
"I will continue to monitor the required amount as the Village expands and more properties are added to the billing system," she told the Goat.
Some residents are questioning such a big increase and what it will do to low-income residents, especially those on fixed incomes.
If increases are approved as recommended, in five years, households will pay about $39 more per month for water, sewer and garbage. In 10 years, that amount will increase $56/month from today's rates.
By 2027, households will be on the hook for more than $1500/year in utility fees or $128/month total.
Commercial enterprises will pay roughly 10% more for utilities than households, and some businesses – like a grocery store, car wash or lounge – will pay significantly more (as outlined in the Village's Fees bylaw available on the Village website).
There is no recommendation to increase the relative fees on business to fund the increase.
McNee says the money is not just for replacing infrastructure but also due to reporting and testing requirements, new standards and codes, worksafe staff requirements, training, and increasing operating costs.
The report recommends that Council pass the increase for two years as not to come up during next year's municipal election period.
Council approved the increase for the 2017 year last year, but it's unclear where Council stands, since no Councillor or the mayor has gone on the record to talk about it.
When contacted for their opinions on the increase, Councillors Owen Torgerson and Hollie Blanchette referred the Goat to the mayor. Counc. Peter Reimer and Sandy Salt did not respond. Mayor Jeannette Townsend emailed to say the matter would be dealt with at the Council meeting.
"Opinions are not provided to media prior to the council meeting wherein discussion and decision is made by Council as a whole. That would be out of order."