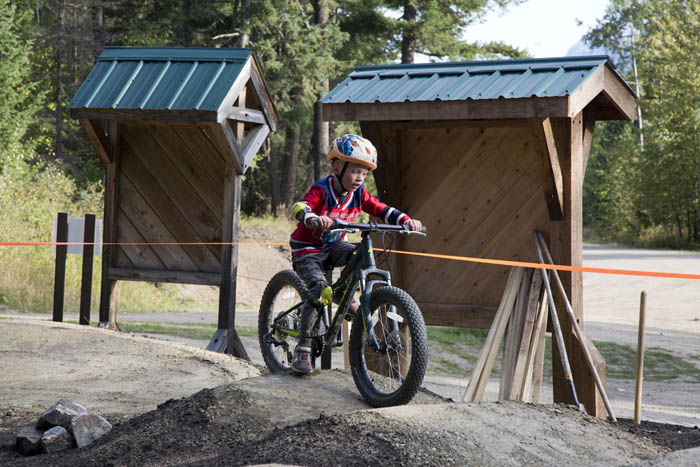 by Andru McCracken
The secret of the pump track is that you don't have to pedal. Somehow, no one really knows the mechanism (quantum mechanics? faith?), when you push down on your bike as you go over a little hump, your bike is pushed forward. With a bunch of little humps in a row you can keep going on and on and on. You can climb hills this way.
And by the time you read this, there is little doubt that some local kids will have already mastered the art of it, even though the track in Valemount only opened up on September 22, 2017.
Great riders agree that time on the pump track teaches kids (and bigger pump tracks can teach adults) how to control their bike, and help them be more confident and safer on the trails. It also helps with trail maintenance, because great riders are much easier on the trails, using brakes a lot less.
It was Donalda Beeson's brainchild and the community came together to make it happen.
"I brought the idea for a kids pump track forward to our Valemount Local Action Team on Child and Youth Mental Health and Substance Use Collaborative (CYMH LAT) last fall as an option at our brainstorm around sustainable projects we could contribute grant money towards supporting child and youth mental health in the community," said Beeson, over messenger.
"I approached VARDA with the idea to see if they could partner and Curtis Pawliuk was a wealth of information, and knew all the steps to make it a reality with our pre-existing bike park."
"It's our hope that providing more youth-specific opportunities to gain skills, get outside and do healthy activities with the families and friends will go a long way in supporting the holistic health of children and youth in our community. We're all really excited we pulled it off!"
Donors that made it happen include Spiral Contracting, Alpine Country Rentals, Mac Cochrane, Jason Alexander and of course, Curtis Pawliuk of VARDA, who donated time and knowledge to make it happen.
It was built by Andreas Thoni of Robson Energy Services.
Beeson said she had wanted to build something in town so it would be accessible to more children and youth, but that would have taken more money and quite a bit more time.
However that idea is still percolating. Do you think we need a pump track in town, that kids can easily get to on their own?
Let us know.