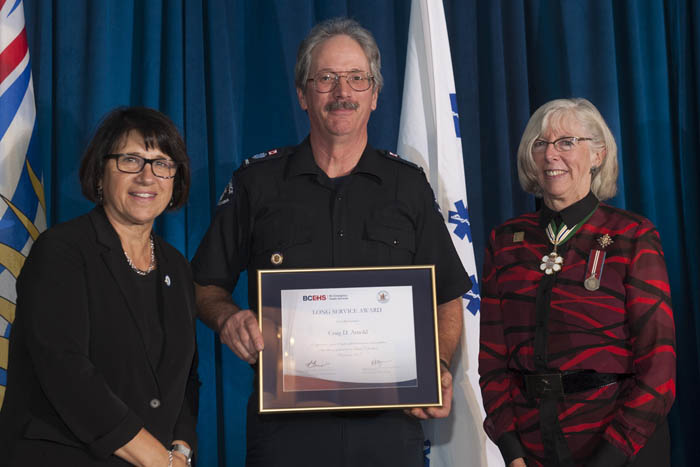 by Andru McCracken
He's been at it for more than three decades, but when his pager goes off at 2 am and he is woken from a deep sleep, he still gets an adrenaline rush.
Craig Arnold, a McBride-based paramedic, was recently honoured by BC Ambulance for 35 years of service.
When Craig Arnold isn't manufacturing wood products at Syncra Wood Products, he's attending to medical emergencies. He's seen a change or two since he started.
"You got paid when you did a call," said Arnold. "You didn't get paid for being on call."
It was only after 18 years that BC Ambulance actually started paying paramedics for being on call.
"Then they started $1 an hour for being on call," he said. "After a couple years it went to $2."
Arnold said compensation is more fair now, and that a pay cheque is nice, but he cautions against signing up to the service to make money.
"In our small communities, if you are getting into it for the money you are going into it for the wrong reasons," he said.
"If you don't have a heart to help in what could be the most difficult time of a patient's life, you shouldn't be doing it."
Arnold said all patients require tender love and care, whether they are badly hurt, or it's a minor injury.
"They aren't just another number … They need to know when they look at you that you are there to care for them," he said. "Not to get done what you are doing so you can get back to bed."
He said the reward is simply the privilege of helping people in need.
Being a paramedic in a small town brings it's own challenges.
"It is sometimes very difficult because you do know everybody. You have a nasty call, you are possibly going to pick up your neighbour. You don't know when that pager goes off," he said.
Physically, being a paramedic is easier on the body than it used to be, he said, as the gear has evolved. He notes they don't have to lift as much as they used to and cell phones now make their jobs easier.
Some things haven't changed, though, like being part of a team.
"If you are a loner and you want to be one your own and make all your own decisions, you can't be. It is a team effort," he said.
"I have worked with a lot of different co workers. Yes some of them you see eye to eye with and you click… some not as well. But you still need to be able to put all your biases aside and work together as a team."
The job involves risk, most notably with winter weather.
"We go out in the worst conditions: there may be a blinding a snowstorm." he said. "I have counted 32 moose between here in Prince George, going one way."
He said he works hard to minimize risk and while paramedics have the right to refuse to go out if conditions are too dangerous, he's never done so.
"Part of that comes from the years of logging and logging roads and so on; my feelings about road conditions are different that some others because of experience," he said.
A big change that BC Ambulance has made has been caring for the mental health of their employees. He recalls a terrible incident that resulted in five deaths near Dome Creek.
"That was a very nasty accident… BC Ambulance had no critical incident stress debriefing," he said. "(At the time) it was, 'Suck it up, get back to work.'
They lost a number of people over a course of time due to stress.
He said now the ambulance service follows up diligently.
"To me that's huge. It's not what it could be yet. But it is coming and it is a huge improvement. I am an advocate for that kind of thing," he said.
Arnold gave a shout out to McBride's Volunteer Fire Department for their support.
"I can't say enough good for the team work and help that we get from our local fire department in McBride when we need extrication, we need extra hands, we can count on them and they work good with us," he said.
Arnold continues to do good work in his community, he recently became a volunteer with the RCMP's Victim Services.