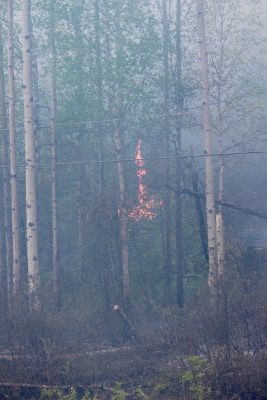 Editor's note: This story was updated on Jun. 13, 2017. — EM
by EVAN MATTHEWS
The blaze five kilometres east of Tête Jaune Cache is now 100 per cent contained, and fire crews have been pulled from the seen.
The fire was first discovered on Tuesday, May. 23 and has continued to burn since — though it has not grown in size since its first day — which the PG Fire Centre says is indicative of sufficient suppression methods.
Fire crews say a fallen tree along the hydro line was the cause of the fire, and started near the Rearguard Falls turn-off. Though the cause of the fire is listed as "human," on the Wildfire Service website, as fallen trees are included in the designation.
When the wildfire was at its worst there were 94 firefighters on-scene.
Fire crews created fuel breaks and hand guards to contain the fire and preventing its spread.
Hand guards are essentially hand-dug trenches, she says, as the crews flank the fire from the east and west. The trenches act as a fuel break, used as a barrier to slow the fire down, according to the PG Fire Centre.
B.C. Wildfire Service confirmed the size of the fire to be as large as 574 hectares, but the blaze is no longer rated "out of control," and is now listed as "under control."
B.C. Wildfire Services has new stages of control, according to the PG Fire Centre, saying fires are now classified as "Out of control, being held, or under control."
Fire crews also used two helicopters to fight the fire from the north, according to the PG Fire Centre, and due to the terrain heavy equipment was limited.
Some locals questioned how the fire was so large, as the PG Fire Centre initially estimated the fire to be 200 hectares.
"We try to be on the more modest side of estimates," says Reynolds.
"Unless we have an exact number; we don't want to scare people with overestimates," she says.
At no point did the fire pose a direct risk to any of the neighbouring municipalities, including Tête Jaune Cache, Jasper, Valemount or McBride, according to the Prince George Fire Centre.
However, RCMP evacuated some residents near Mount Robson as a result of the fire, but they have since returned home.
"It was a precautionary measure, as it was unknown how the fire was going to move due to the extreme windy conditions of the day," says Sgt. Robert Dean.
"The smoke was intense and the fire was not observable from the highway," he says.
Both Tête Jaune and Valemount residents lost power on the evening of May. 23, with it returning in Valemount just before midnight. Some of Tête Jaune was left without power into the afternoon of May. 24. Strong winds in the region sent branches, garbage and belongings flying, as rainy weather moved in.
The fire was initially moving east toward Mount Robson, according to fire crews, but swirling winds made the fire's behaviour unpredictable.