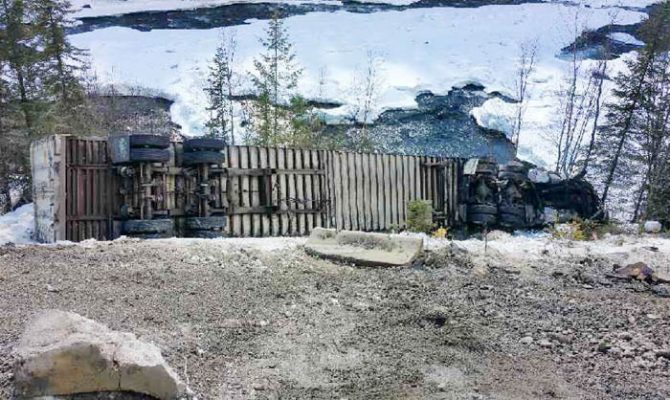 by EVAN MATTHEWS
A rolled over semi-truck caused concern last week among Valemount locals, as the truck came to rest just a few feet from the Fraser River.
On Mar. 16 at about 10:30 AM, RCMP and the B.C. Conservation Officer Service received a report of a tractor-trailer that had gone off the road in Mount Robson Provincial Park.
The collision happened some three km east of the Visitor's Centre, and the truck slid down the bank toward the Fraser River, according to Jason Bosscher, an Emergency Response Officer with the Provincial Ministry of Environment.
While there were no injuries reported, Bosscher says the saddle tanks on both sides of the semi — fuel tanks typically found near the running boards of the truck — had ruptured, with a possible diesel spill of 100 litres.
"There is a possibility some made it into the Fraser River, but there was zero evidence of that," says Bosscher.
"There was no sheen or anything like that. I think we got off lucky," he says.
The trailer was carrying agricultural goods of some kind, Bosscher added, but no other dangerous goods were on board.
"We dispatched an officer to the site and he determined — based on the distance the truck had traveled since its last fill — there was about 400 liters of diesel on board the saddle tanks," says Bosscher.
Thankfully during the clean up, 300 liters of the remaining diesel was pumped out of the tanks by the towing and recovery operator, which means there was less than 100 litres estimated to have spilled into the environment, and the majority of the spill was at the top of the slope where the crash occurred, Bosscher says.
"We also had a spill response contractor on site, and we worked until we were satisfied there was no threat to the environment or to the public," he says.