by EVAN MATTHEWS
Crash stats may surprise you
From 2011-15, every highway collision injury and death between Valemount and the Alberta border has involved a commercial vehicle, Provincial data shows.
In December, The Goat published an article stating there were 235 crashes recorded along Highway 5 and 16 between Valemount and the Alberta border spanning from 2011-15, and that 45 of those crashes involved semi-trailers — commercial vehicles — based on Ministry of Transportation data.
Upon closer examination, The Goat found a discrepancy in the data and asked the Ministry for clarification.
As it turns out there were actually 53 commercial vehicle collisions – not 45 – between Valemount and the Alberta border over 2011-15, which accounts for 23 per cent of all collisions on that stretch of highway.

All collision-related injuries and deaths between Valemount and the Alberta border involved a commercial vehicle, which is defined by the B.C. Commercial Vehicle Safety and Enforcement (CVSE) as a vehicle weighing more than 11,795kg.
Commercial vehicles include dump trucks, tractor trailers, logging trucks, etc., which typically require the operator to have professional training and a specialized license, according to CVSE.
CVSE data show that from 2003-13, the number of commercial trucks registered in B.C. has increased 25 per cent, from 49,130 to 61,310.
Trucks in the lower weight category of 5,000-11,794-kilograms include one-tonne pickups, delivery vehicles, service vehicles etc.
It is important to note, according to Ministry of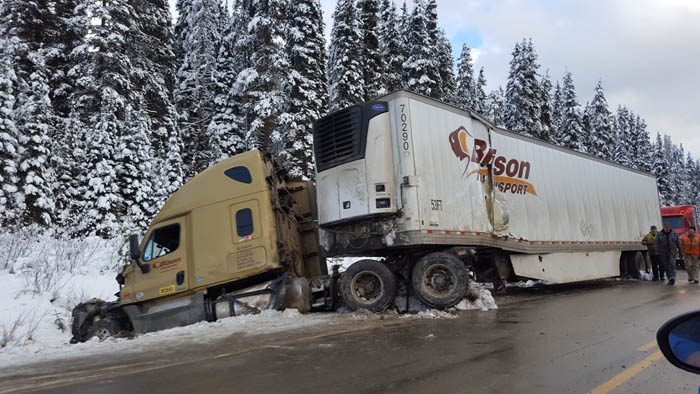 Transportation Spokesperson, Danielle Pope, that though commercial vehicles were involved in all collisions resulting in injury and death, it doesn't necessarily mean the commercial vehicle was responsible for the collision.
It also does not mean a non-commercial vehicle was not involved, or did not cause a collision resulting in injury or death.
The Ministry of Transportation is still compiling last year's data and so was not able to supply 2016 numbers.