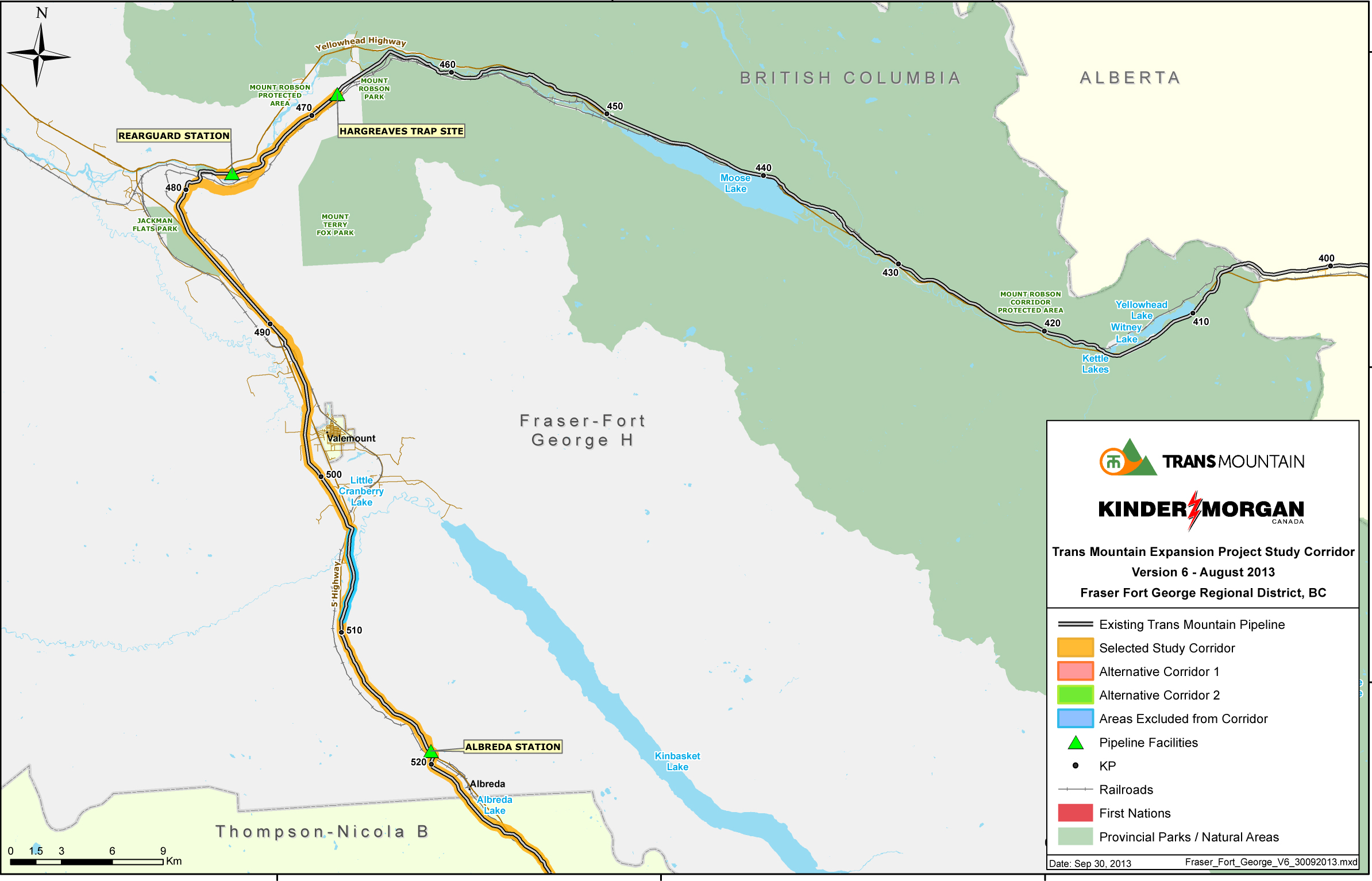 Editor's Note: Article was originally published on Jan. 11, but was updated for the Jan. 19 RMG Newspaper.
by EVAN MATTHEWS
The Ministry of Environment and the Ministry of Natural Gas Development have issued an environmental assessment certificate to the Trans Mountain Pipeline for the B.C. portion of the project.
The Province has outlined 37 conditions attached to the environmental assessment certificate, and its approval is conditional upon Kinder Morgan meeting the conditions.
Many of the conditions are directly tied to addressing community and Indigenous concerns.
The Provincially issued conditions are in addition to the Federal Government's 157 conditions — required by the National Energy Board (NEB) — according to the B.C. Government.
Kinder Morgan says it has already met five of the 37 conditions, which relate to the piece of legislation titled, Requirements for British Columbia to Consider Support for Heavy Oil Pipelines.
"We believe this represents a positive outcome for our company, customers and for British Columbians and all Canadians who will benefit from the construction and operation of an expanded pipeline," says Ian Anderson, President of Kinder Morgan Canada.
"Trans Mountain shares (B.C.'s) values and priorities of safety, environmental protection and prosperity for communities," he says.
The Trans Mountain Pipeline is roughly 987 KM long, and essentially runs from Edmonton, Alberta to Burnaby, B.C.
Environment Minister Mary Polak and Natural Gas Development Minister Rich Coleman said the Federally run NEB has the primary responsibility for making sure Kinder Morgan develops, constructs and operates the project in a safe and secure manner, and protects people, property and the environment.
The Provincial conditions address key areas of Provincial jurisdiction and interest, such as vegetation and wildlife, parks and protected areas, greenhouse gas emissions and terrestrial and marine spills.
Key Provincially added conditions include:
Further consultations with Indigenous groups and provincial agencies, while developing relevant plans and programs required by the NEB
Development of offset plans for wildlife species at risk and a grizzly bear mitigation and monitoring plan for all impacted grizzly populations
Preparation of a worker accommodation strategy describing potential environmental and socio-economic impacts of construction camps on Indigenous groups
Preparation of offset plans for any impacted provincial parks, protected areas and recreation areas
Kinder Morgan must conduct a research the behaviour and cleanup of heavy oils spilled in freshwater, and marine aquatic environments, to provide Trans Mountain and spill responders with information on effectively responding to spills
An increase to Trans Mountain's emergency preparedness and response exercise and training programs
Providing Indigenous groups the opportunity to participate in construction on post-construction monitoring
However, as has been well documented, not all British Colombians agree with the decision, including the Sierra Club's B.C. Chapter.
"Today's decision is an abject failure to stand up for B.C.'s interests," says Caitlyn Vernon, B.C. Sierra Club's campaigns director.
"The five conditions have not been met… This is not a deal. This is a B.C. sell-out. This is a betrayal of the hardworking people and places of this resource-rich province," she says, adding nothing is set in stone just yet.
Kinder Morgan disputes this statement, saying it has met the five conditions.
"This pipeline won't be built. Just as court challenges overturned approval of Enbridge's Northern Gateway, First Nations are already in court to stop this project, and more lawsuits are expected," says Vernon.
Sierra Club B.C.'s mission is to protect, conserve, and educate the public about, B.C.'s wilderness, species and ecosystems, according to its website, within the urgent context of climate change impacts.
The B.C. Liberal Government's Environmental Assessment Office will act as a liaison with the NEB and other government agencies to ensure the office is satisfied and certificate conditions are met.
Ministers were required to render a decision on the project in keeping with a January 2016 B.C. Supreme Court decision that found although the Province could rely on the NEB process and assessment report — through its agreement with the NEB — a decision under the B.C.'s Environmental Assessment Act was also required.
Next steps for Kinder Morgan, according to the company, include a final investment decision by its board of directors.
Trans Mountain is planning to begin construction in September 2017, with an in-service date for the twinned pipeline system expected in late 2019.